Mandel Mavens Nest on The World Trade Center:
In Memoriam In Sight and In Sound: From New Yorkers' POV

WE'RE ALL THANKFUL THAT WE (and we were all in the city that day), OUR FRIENDS AND RELATIVES WHO WORK IN DOWNTOWN MANHATTAN --including a cousin on the 51st fl, another in 7 WTC, and our nephew evacuated from the World Financial Center -- AND FLY FREQUENTLY ARE ALL OK -- even our car, parked just north of the WTC, is fine. Our hearts go out to all who suffered, there, in, D.C. and PA, and the plane crash near here in Queens, and we're relieved that our cousins in Israel are unhurt in terrorist attacks. While Harold Shultz witnessed the horror from his office window (and our now daughter-in-law from her Stuyvesant High School window), he was immediately busy managing a relief center for rescue workers and getting his agency reconfigured for the re-opening of Lower Manhattan. He advised the Lower Manhattan Development Commission on residential issues, and even got a new parking spot. We posted a flag in solidarity for the postal workers felled by anthrax in honor of our grandfather Louis Lifschutz who was proud to work for the Post Office for 43 years.
When out-of-town friends-of-friends asked me right afterwards how they could help NYC, I suggested supporting Chinatown, which had lost all its tourists and restaurant patrons and was getting none of the philanthropic outpouring.
As the years have passed, and our family has blessedly expanded and our family tree research has extended to more branches, we've found that our mishpuchah did have relatives more directly affected: an out-of-town cousin's brother-in-law, a cousin's cousin, and a seven-year missing doctor who had to be declared a 9/11 victim by court decision. I annually memorialize 9/11 as their, and the other victims', yahrzheit, regardless of the usual rule to follow the Hebrew calendar date.
The continuing shameless waving of the 9/11 banner into the 2016 election campaign reminds me how irresponsible NYC radio stations were, the only media I had access to until I got home in the early evening. They put on the air wild rumors, without waiting to substantiate any facts, and contributed not only to continuing panic and useless activity, but to the eventual perpetuation of conspiracy theories and false claims.
In 2019, the NYS legislature passed, and the governor signed a required "Day of Remembrance" on 9/11, which requires a brief moment of silence in public schools to encourage dialogue and education in the classroom among a new generation of students who weren't alive in 2001.


9/11 in Photos

9/11 in Poetry

9/11 in the Movies

9/11 in TV Fiction

9/11 in Song

9/11 in Literature

It's sad that so many of the web sites created in tribute to the events of 9/11 are no longer posted so I can't link directly to them anymore, when I have a chance to check and update. But the 10th anniversary brought on new and compilation resources.

The National September 11 Memorial Museum was dedicated May 15, 2014, and adds videos to their You Tube Channel.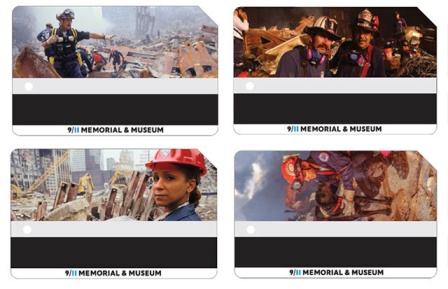 For the 17th anniversary of the end of the rescue mission, the Museum dedicated a 9/11 Memorial Glade, which was commemorated with Limited Edition MetroCards honoring first responders.
StoryCorps' September 11 Initiave aims to tape an interview for every victim, for the Museum, and is animating several of them, for PBS, You Tube, and other outlets as well.
"Just in time for the 13th anniversary of the September 11 attacks", pointed out The Gothamist, the link with the killing of Osama bin Laden by Navy Seals will be on display.
Will they include the findings of the Senate Select Committee on Intelligence's Study of the CIA's Detention and Interrogation Program that documents the use of 9/11 as a justification for torture?
The Museum co-operated on the upcoming eight-episode documentary series The Day The World Changed, created & directed by Steven Rosenbaum and Pamela Yoder, "tracking the design, curation, and construction of the" museum, utilizing the "Camera Planet Archive".
I appreciate this resonance with my clear memory of being mesmerized by that bright blue sky as I walked east on 23rd Street, never turning my head south like everyone else was, just before I found out back at my office: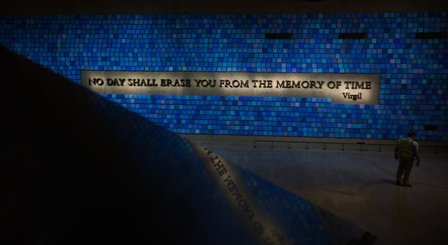 Trying To Remember the Color of the Sky on That September Morning by Spencer Finch. [View in photograph by Damon Winter, The New York Times]


For the transcripts from the Port Authority of New York and New Jersey's emergency calls.

For a timeline of all the 9/11 attacks.



The Tribute in Light, pictured in the background, beautifully shines dusk to dawn at the anniversary, presumably as long as the Municipal Art Society can get funding to keep producing it.

For the rhetoric of 9/11.

The National Museum of the American Indian includes the perspective of NYC's Mohawk Indian ironworkers who helped build and unbuild the Towers.

The Foundation Center documented where the 9/11 charitable dollars went.

For cheerleading on the rebuilding plans or just the facts, though it doesn't seem updated.

The issues around the rebuilding quagmire have given me flashbacks to my city planning career, including trying to deal with the Port Authority's design stubbornness. The two finalist proposals represented what Har and I each picked -- he the THINK plan, me the Libeskind. While the Daniel Libeskind proposal, the winning selection, is the most dramatically innovative and creative, it makes the memorial aspect dominant, and that concept has won sway due to the moral domination of The Families-- let's all remember in planning the memorials that the now deserted Grant's Tomb was the most popular tourist site of the late 19th century as every Union soldier felt it was an obligatory pilgrimage. The new Lower Manhattan Grand Central Station with the PATH Station, even reduced, needs to be central to any enlivened, practical plan, despite family objections and financial considerations.
Ada Louise Huxtable on how the designs are being weakened. We too are pretty much fed up with what's happened to the plans. So how did it work out? The New York Times "Style" section 9/30/2015, Laura M. Holson reported on the emotional incongruity of Condé Nast Colonizes Lower Manhattan for those who lived in Manhattan in 2001: "Working every day at ground zero was discombobulating at first for some of those whose offices or cubicles overlook the Twin Towers Memorial. The black pits are a daily reminder of 9/11, with tour buses regularly disgorging visitors who stare or mourn. And the plaza is often bleak in winter, when icy winds create snowdrifts, rendering it a canvas of charcoal and white."


The designer of the Memorial Pavilion from Snøhetta toured the plaza as background for the "Libraries" episode of the 2014 Cool Spaces TV show. The emphasis on visitor self-reflection was more spooky than the rusted I-beams.

The New York Times, posted 7/23/2015, through five views: "Take a look at the shape-shifting, stacked tower design for 2 World Trade Center, the final building overlooking the site where the twin towers were destroyed".

We supported the building of the Muslim-led Cordoba House (or Park 51, or whatever it would have been called instead of mosque) on Park Place, north of the WTC site. When a Congressional campaign flyer came in the mail proclaiming that a candidate supported the project, I thought that was a positive position, until I turned it over and saw it was from his opponent.
The Museum of the City of New York includes the controversy in their exhibition Activist New York:
Background reading on a somewhat comparable controversy could be helpful in defusing the debate: Memory Offended The Auschwitz Convent Controversy, edited by Carol Rittner and John K. Roth (Praeger,1991) and The Continuing Agony: From the Carmelite Convent to the Crosses at Auschwitz, edited by Alan L. Berger, Harry James Cargas, and Susan E. Nowak (University Press of America, 2004).
In WNYC's panel on Fear of a Muslim Planet at BAM on 5/8/2015, one of the Muslim women (I can't remember which one) passionately pointed out that she could have had family members in the Towers.
No Responders Left Behind (2021) - Rob Lindsay's instructive and moving documentary follows over five years first the stopgap measures, then how it took until 7/29/2019 for both houses of Congress to pass and the President to sign what became named for several 9/11 responders in order to finally get national support: "Never Forget the Heroes: James Zadroga, Ray Pfeifer, and Luis Alvarez Permanent Authorization of the September 11th Victim Compensation Fund Act". But more, it's a fascinating real world case study of "How A Bill Becomes A Law", especially for a cause that tears at the heart strings and stings the hypocrisy of those who mis-use the patriotic rhetoric of "Remember 9/11" without the obligation to help those who were actually at "The Pile". Who was there was John Feal, and we see him cleverly use celebrity Jon Stewart, while minutely organizing those impacted in NYC and around the country. With the emphasis on NYPD, FDNY, and other NYC employees, I wasn't clear how wide the net included amongst those then in Lower Manhattan. An epilogue notes that the participants are now applying their hard-learned legislative expertise to helping military veterans. (preview courtesy of Discovery+)

9/11 In Photos

You can virtually be here before, during and after the attacks at a "democracy" exhibition of photographs of New York and New Yorkers and the CameraPlanet video archive. These focus on the rescuers and their health consequences.

For an archive of contemporaneous online reactions and newspaper front pages from 9/12/01, which is also the basis of a Newseum permanent exhibition and the Library of Congress Documentary Photographs September 11 Acquisitions:Witness and Response, both in Washington, D.C.

For a photo-essay by photojournalist James Nachtwey. For Uniformed Fire Fighters Association own photographic tribute, and you can contribute to their funds.

Anonymous archive discovered Summer 2019, evidently taken by a construction worker at The Pile.

From Artists on the Run, Their Art Left Behind by Carol Vogel, in The New York Times, September 13, 2005:
"The whole landscape of American art is in the process of upheaval," [Willie Birch, a 66-year-old painter, said in a telephone interview from an apartment on the Lower East Side of Manhattan, which he kept when he moved back home to New Orleans in 1993 after winning a Guggenheim Fellowship.] "Between 9/11 and Katrina, I am seeing artists dealing with history. When I was at school we were concerned primarily with form. Now that's all changed."


The New Normal - a traveling art exhibition on the impact of heightened security on our lives.

PBS's 9/11 Video Quilt of people's thoughts on what's changed.

NPR's Muslim Artists, Now series first looked at how 9/11 impacted the presentation of Islamic art in museum collections, starting, on 8/3/2015, with the Metropolitan Museum of Art.

The Outsider: The Battle To Build The 9/11 Museum:
There are many reviews of the design of World Trade Center Memorial and Museum and coverage of the opening. I was waiting to visit after the families of the victims, including my relatives, and the rush of out-of-town tourists (who filled my daily E train commute). Yet, 20 years later, I still haven't. (My husband and brother-in-law have.) But I did watch Pamela Yoder and Steven Rosenbaum's documentary (courtesy of Abramorama, which is releasing 8/19/2021, then VOD availability in collaboration with Giant Pictures). After gathering what they say is "the world's largest archive of 9/11 video", that was the basis for their film Seven Days in September, they donated it to the World Trade Center Memorial and Museum. In exchange, they were "granted unfettered access to the site" and the staff of the Museum as they planned the permanent exhibit over seven years. From those meetings, they chose to title the film and focus it on the Museum's Creative Director, Michael Shulan, who had created the impactful, crowd-sourced Here Is New York exhibit and related materials. The theme is basically that as the professional museum curators took over (including the executive director, who was formerly with the U.S. Holocaust Memorial Museum in D.C.), and the Board (particularly major funder Mayor Michael Bloomberg) became more and more sensitive to the survivor stakeholders I simplistically call "The Widows", the context shrunk to just the events of That Day. Not the previous basement bombing of WTC, not what was going on with Al-Qaeda and other extremists then or later, not Gitmo, not the passing of the Patriot Act, not the Surveillance State that was expanded, not Endless War, etc. But many other documentaries have dealt with those aspects, including ones that I comment on here as related to 9/11. While finally a couple of newspaper architectural critics are briefly interviewed about these issues, the point-of-view is limited to the iconoclastic Shulan. (updated 9/7/2021)

9/11 In Poetry

For a poetic tribute to the iconic symbolism of a Skyscraper, by Carl Sandburg from 1910 but even more true now.

Pete Seeger relayed that he found this apropos poem on the late Lee Hays' piano:
To Know Good Will
If I should die one day by violence
Please take this as my written will
And in the name of simple common sense
Treat my destroyer only as one ill
As one who needed more than I could give
As one who never really learned to live
In peace and joy and love of life
But was diseased and plagued by hate and strife
My vanished life might have some meaning still
When my destroyer learns to know good will.


My mother Charlotte Mandel read and discussed her two poems at a first anniversary poetry tribute.

Then poet laureate Billy Collins first read "The Names" to Congress on 9/11/2002.

For how every New Yorker's reaction that morning was to reach out to their loved ones, like Lou Reed's first thought was of his significant other, Laurie Anderson.


Dedicated to him after his death, her autobiographical essay Heart of a Dog includes references to 9/11, both descriptive and the emotional impact: "I live in downtown Manhattan" where "the clouds were dust" and for days after she saw "lines of trucks carrying the remains." (more quotes forthcoming when I watch it again, on HBO in 2016) 9/11 also triggers memories of her childhood near-death and slow recovery experiences that emphasize the contrast between growing up with nature vs. this very downtown and adult experience. She also references a Jewish woman in Reed's life.) (previewed at 2015 New York Film Festival of Film Society of Lincoln Center) (updated 10/23/2015)


We went to see the eight finalists for the memorial competition -- and were really disappointed at the blandness and unoriginality! As quoted in The New York Times on the memorial plans:
8 Mute Minimal Designs by "the Wall Street poet" Eugene Schlanger

Where is the twisted human torso?
Where are the flames? Where is the smoke?
What crossed fingers still dangle below
These calm subterranean spaces?

Should we not, here and now, make known the
Inexplicable agony? Who among these
Names leaped to their deaths? Who did not
Have a chance to leap, scorched, crushed?

Placid well-lit puddles of piddling light
Confine the defiant. Monuments.
Intended to mourn, feign empathy and

Experience. Serene Ground Zero.
Is this the scene searched in vain for remains?
Each age has the art it deserves.

Will this be called the architecture of amnesia?


Premiered at The Architecture & Design Film Festival in Fall 2016, The Architects: A Story of Loss, Memory and Real Estate documentary, directed by Tom Jennings, that focused on the unrealized design proposal from United Architects (a collaboration between Alejandro Zaera-Polo & Farshid Moussavi of Foreign Office Architects, Greg Lynn of Greg Lynn FORM, Kevin Kennon of Kevin Kennon Architects, Jesse Reiser & Nanako Umemoto of Reiser + Umemoto Architects, and Ben van Berkel of UNStudio).


9/11 through American Popular Culture

We've used Brooklyn Bridge shower curtains for years – and I didn't notice the black-and-white photograph includes the Towers until 2015.

After Islamic extremists' point-blank assassination of the French satirical cartoonists of Charlie Hebdo in Paris on 1/7/2015, Ruben L. Oppenheimer visually equated the terrorist attacks in an image that went viral: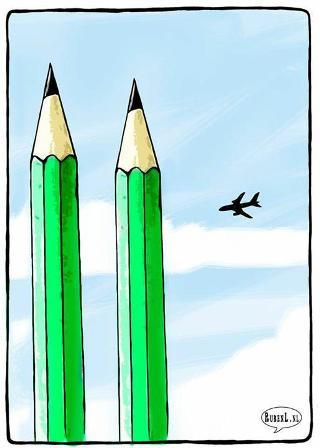 Then 11/13/15 -- somberly called "Paris's 9/11". (However, this same image was used in a nasty right-wing meme over 7/4/2017, that I won't post, showing the Twin Towers as "CNN Towers", with President Donald Trump as a jet bringing them down.)
For a pandemic beset 20th anniversary, "Disinformation" against vaccines and elections used the Twin Towers metaphor: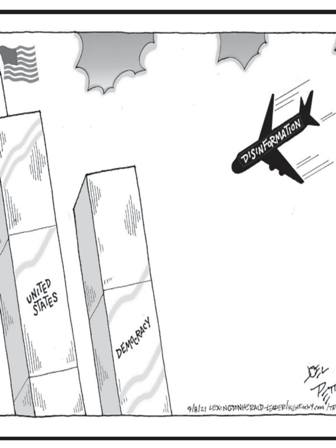 In early 2019, 9/11 was still in the news for inflaming opinions: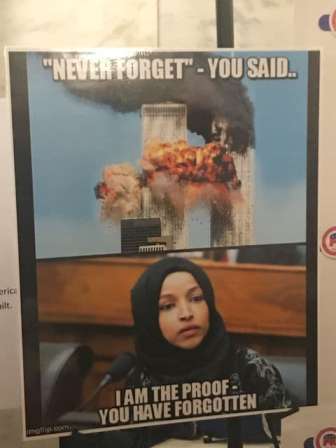 Congresswoman Ilhan Omar (D-Minn.), the subject of Time For Ilhan (seen at 2018 Tribeca Film Festival), and one of the two first Muslims in the House of Representatives, was the target of this nasty poster evidently produced by an anti-Muslim hate group and displayed in the West Virginia State Capitol rotunda on March 1, 2019 on "WVGOP Day", sponsored by the state Republican Party. Not coincidentally, the Somali-born, hijab-wearing woman of color (Congress passed new rules to permit her religious head-ware) is also being attacked for anti-Israel/Israel lobby comments that are perceived as anti-Semitic. Worse, the President of the United States on 4/13/2019 tweeted a video version with out-of-context quotes from the Congresswoman speaking on the bias against Muslim-Americans after the attacks pic.twitter.com/VxrGFRFeJM with the caption: "WE WILL NEVER FORGET!", buttressed by the Murdoch-owned New York Post cover that spurred Yemini bodegas' reaction: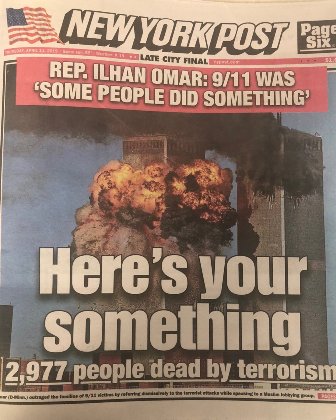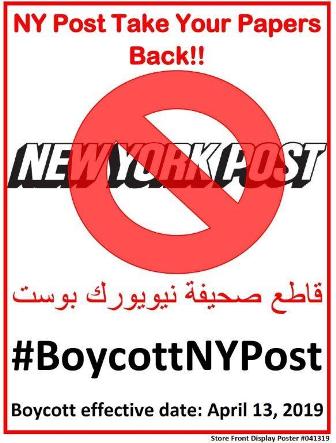 .
Also the weekend of March 1, 2019, the respected journalist Fareed Zakaria produced a CNN Special Report "Saudi Arabia: Kingdom of Secrets", inspired by his anger over the murder of his Washington Post colleague Jamal Ahmad Kashoggi. As indicated in this promoted clip, he called out the Saudi Arabians involved in planning and carrying out the attack shown between images of planes flying into the Towers, FDNY running into the lobby, and then photos of "nearly 3,000 Americans" killed, to illustrate the Kingdom's exported "hate".
On the radio, WNYC's On the Media program on "Hating in Plain Sight", weekend of 3/22/2019, Rukmini Callimachi, New York Times correspondent covering ISIS, noted in the discussion on "Archiving Terrorist Propaganda", that the removal of Osama bin Laden's videos online have left a void for a false timeline that the World Trade Center attacks happened after the U.S. invaded Iraq.


In a free 2019 You Tube documentary Never Again Is Now, Evelyn Marcus repeats the claim that youth in Europe were cheering on 9/11 and saluting Osama, showing an online article amidst images of the Towers burning, sounding a lot like President Trump during his 2016 campaign, in comparison to other incidents cited in the film are documented by photographs or footage.

In Scandalous: The Untold Story Of The National Enquirer, director Mark Landsman's interviews with former editors and reporters include the sobering impact of 9/11 in two ways: that the publisher American Media Inc. under David Pecker shifted the tabloid's emphasis to patriotism, with lots of Ground Zero photos; and second, they associated the (still unsolved) anthrax exposure a week later (that too many have forgotten), which killed a photo editor and sickened another employee, with the 9/11 attacks. They therefore presume the publication is a comparable symbol of America as the other targets, including post offices, as referenced in the opening paragraph. (preview of NYC premiere at 2019 DOC NYC Festival)

Recorder: The Marion Stokes Project - One black woman media analyst's prescient notion of the need to document how news was covered over 30 years included the morning of 9/11/2001. In this fond documentary, one can see how the national networks only gradually caught on to the Towers burning, and began to aim their cameras closer and closer. When the second plane hits the other Tower, the usually silent off-screen news staff is heard reacting in shock. Director Matt Wolf quadrants the screen to show how CNN was first, CBS and NBC broke into their morning soft news talk shows, and the local Philadelphia Fox outlet was last. The TV News Archive is now digitizing her unique personal collection for public access. (Brief Review forthcoming) (preview at 2019 Tribeca Film Festival)

Jake Dobkin's Ask A Native New Yorker column on 11/20/2015 faced the comparison for a nervous newcomer: "It's okay to worry about terrorism. You'll have a lot of company: worrying is New York's most popular pastime. It's been 14 years since 9/11 and I still don't like spending time in tall buildings, and every single time I go to Grand Central or Times Square, I think about what an inviting target those places must be to all the assholes around the world who hate America. . . this city has overcome many threats and attacks by terrorists in the past, and we'll survive this one too."


America Is Hard to See, the inaugural, survey of the permanent collection exhibition of the new Whitney Museum of American Art (Spring 2015), included in the "Course of Empire" section (named after Thomas Cole's painting cycle), Keith Mayerson's 9-11, Aleksandra Mir's Osama, and Richard Serra's Abu Ghraib.
For the 15 anniversary, the Whitney posted on Facebook: "We remember September 11 with Ellsworth Kelly's Ground Zero (2003). Kelly first began conceiving a memorial at Ground Zero in 2001, when he imagined a large, gently sloping mound of earth covered in brilliant green grass. For thousands of years, cultures all over the world have used mounds as a way to revere the dead, and Kelly has said that ancient mounds of North America influenced some of the shapes in his work. When the artist saw this aerial photograph of Ground Zero published in The New York Times in 2003, he was moved to make this collage of a prospective memorial. As envisioned by Kelly, pedestrians walking towards the memorial would see green curves at the intersection of the street and the mound, each block offering a different aperture and shape. Those looking down from neighboring buildings on the site would see an expanse of color, as if looking at the ocean or sky." [Ellsworth Kelly (1923–2015), Ground Zero, 2003. Collage on paper (newsprint). Whitney Museum of American Art, New York; gift of an anonymous donor. © Ellsworth Kelly]





For "Art Card" commissioned by the MTA for display in buses and subways, Jessie Hartland imagined NYC as a ride through history in a child's game, including a stop at the World Trade Center.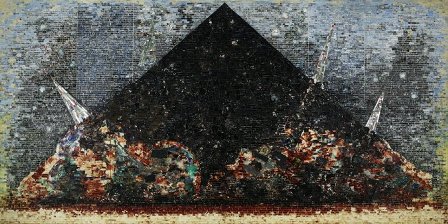 "9.11.01" By Jack Whitten (2006) New York Times Credits Hauser & Wirth
The 1/23/2018 obituary of the artist Jack Whitten by Neil Genzlinger included this image, noting: "Mr. Whitten sometimes responded to the events of the day with artwork. One such event was the attack on the World Trade Center in 2001, which Mr. Whitten witnessed at close range, from his studio on Lispenard Street in TriBeCa. 'When it hit,' he said of the first plane, 'the first thing you saw was this big crystal burst; before you saw any smoke, before you saw any flame, the sky was just filled with crystal glass."

Laura Poitras: Astro Noise at the Whitney Museum of American Art (Winter 2016) opened with her video piece O'Say Can You See (2001/2016). The entrance side was her short film of slo-mo shots of diverse New Yorkers staring at the ruins of the World Trade Center in the days after the attacks, including: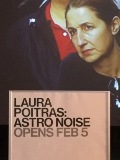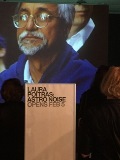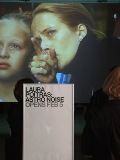 -- the other side of the screen is footage from two U.S. military interrogation videos in Afghanistan, including of Salim Hamdan whose case she covered in The Oath (2010).

Our alma mater was NYU Uptown (in the Bronx) that no longer exists, but in 2018 NYU "downtown" alumni remembered 9/11, from two perspectives.



9/11 in the Movies

You can see the Twin Towers still standing in NYC movies, and in videos like Ryan Adams's "New York, New York". Like the chorus says, "Hell, I will always love you, New York." There were so very many documentaries on TV about the rise and fall of the Twin Towers, including PBS's American Experience episode "The Center of the World" which included Building the World Trade Center produced by the Port Authority of NY/NJ in 1983, plus lots of extras and links.

The view of the Twin Towers has become a regular establishing shot that a movie takes place prior to 9/11/2001, such as Bad Hurt, a depressing portrait of a Staten Island family beset with Job-like problems in the early 1990's. Similarly, in the fictionalized film short The Evolution of a Gen-X Music Purchaser sardonically narrates about standing on line to buy Slayer's God Hates Us All on 9/10/2001 that the impact on millennials wouldn't be evident until we woke up the next morning. (Both previewed at 2015 Tribeca Film Festival).

11th Hour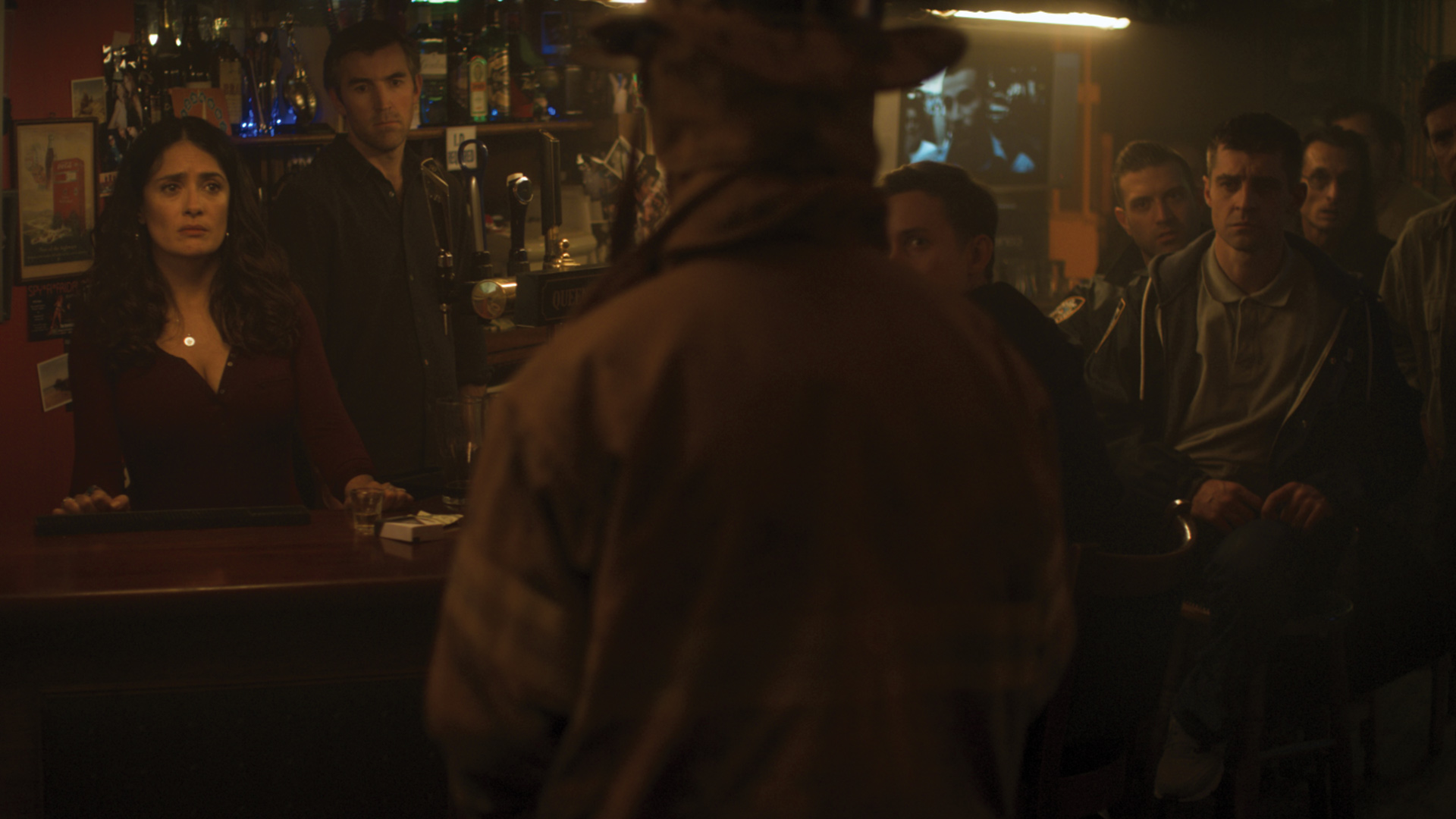 - Salma Hayek Pinault as Maria José, John McMahon as Eamonn, Tony Doyle as Firefighter, Sam McGovern as Cop, Omar Sharif Jr as Officer Mauro, Darren Healy as Seán, Paul Higgins as Drunk, Martin McDougall as Tom in 11TH HOUR. Photo by DP Cathal Watters.
As directed by Jim Sheridan, and co-written with Oskar Slingerland, this 11-minute docu-drama short, based on Lisa Hand's story about her experience in Marty and Marie José's Manhattan bar, is a touching tribute to the surviving first responders and the profound impact they had on frightened, angry, and confused New Yorkers on 9/11. (seen at 2017 Tribeca Film Festival)


The Suitcase - Based on the declassified Review of Investigation Conducted by the FBI of [Mohammed] Atta's Suitcases at Boston, MA, this moving 21-minute film, directed, written, and produced by Abi Damaris Corbin, makes very human the coincidences on 9/11 and the small pieces of the puzzle that helped put together the identity and purposes of the hijackers who flew from Logan International Airport into the Towers. An all too ordinary American baggage handler got caught up in the maw by breaking the rules, and extraordinarily persisted in letting the authorities know what he discovered.
From the press notes: This short was Corbin's graduate thesis film, through an unusual collaboration by 17 of the top Hollywood film and tech companies, with crew members from 10 different countries. The original letter found in the suitcase is displayed at the 9/11 Memorial & Museum; the props team created an exact hand-written replica. (Briefly reviewed at 2017 Tribeca Film Festival)


Philippe Petit's obsession with the buildings is fascinating, as recalled through Man on Wire, based on his book To Reach The Clouds: My High Wire Walk Between the Twin Towers. His stop-the-city aerial act that so floored all of us on August 7, 1974 (and also got New Yorkers to start liking them too) inspired the Caldecott Medal-winning children's book The Man Who Walked Between the Towers by Mordicai Gerstein. (Degrees of WTC separation: I found out in 2012 that a guy who helped Petit inside the Tower is my cousin's godfather.)
The New Yorker referenced his walk and the absent Towers in 9/11/2006: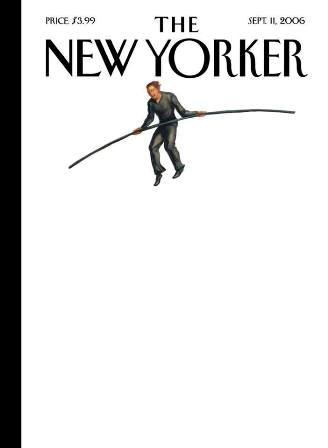 Massachusetts Americana duo Crowes Pasture recorded a 2018 tribute song: "High Wire".
The Walk beautifully recreates Petit's quest in a fiction feature, and illustrates more, suspenseful details of his stake-out and preparation, including the colorful accomplices to his "coup". I only caught a couple of differences to the actual event that day in NYC: there wasn't enough sense of the panicked radio reports promulgating that the crazy guy up there was sure to be intending suicide, thus fanning fears that the ugly new Towers would be even more of an attractive nuisance for the suicidal than the Empire State Building. Instead, director Robert Zemeckis jarringly edits in a national NBC news clip from the end of the day, with info on "Petit"s "sentence" that he (as played by Joseph Gordon-Levitt with a spot-on Parisian accent) re-tells a few minutes later. When the TV reporters rush to interview him after his arrest, maybe there's legal reasons why one is identified as Channel 6 when there isn't such in NYC? Otherwise, the production design, dialogue, and look all seem to capture the period very evocatively. As the narrating "Petit" "stands" on the crown of the Statue of Liberty, The Towers constantly loom behind him, with the sun rising and setting, lights shining from within at night, and as he ironically utters that the Port Authority gave him a pass to the Observation Deck that was good for "forever", the image of the Towers gradually fades from golden reflections of sunshine to empty black. A photojournalist colleague who covered the work at "the pile" (with lasting health effects) couldn't bring herself to see this movie, so I tried to reassure her that it's a respectful valentine to the Towers.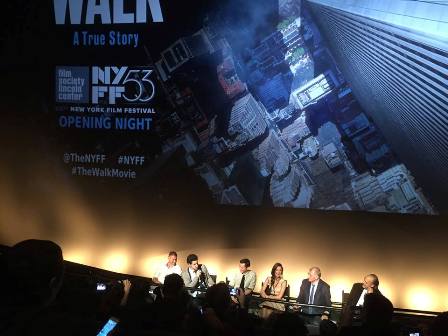 While the cast was too young to remember "the walk" and Zemeckis says he wasn't even aware of it at the time (guess he was on the West Coast?), each American at the press conference spoke of visiting the original Observation Deck, and the new memorial to experience the distance between The Towers. Gordon-Levitt spoke of visiting the WTC in Summer 2001 when he returned to NYC for his sophomore year at Columbia. Ben Schwartz, who played the stoner accomplice "Albert" identified himself as a native New Yorker who frequently passed by the Towers as just part of his landscape. James Badge Dale, who played "Jean-Pierre aka J.P.", the accomplice from the electronics store, spoke of growing up on 20th St. off 9th Avenue where "The Towers were part of my childhood. . .I'm proud to be part of a film that honors the memory of those buildings." We brought tourists several times to the Observation Deck and the film wonderfully re-creates that specific glorious view, from Petit's perspective on his wire, of the three bridges to the East, the Hudson River to the west, and Manhattan falling away uptown. (previewed in IMAX 3D at 9/26/2015 New York Film Festival of Film Society of Lincoln Center)
Colum McCann used what he called this "act of bravura," in The New York Times 11/28/2009, "Significant (Little) Moments Pulled From Obscurity" by Motoko Rich, to anchor the multiple story lines in the 2009 National Book Award winner for fiction Let the Great World Spin to contrast with the "human bravura" down below for "an allegory about resilience and recovery after" 9/11. "Several years ago he read an essay about Mr. Petit by Paul Auster. Then, the Sept. 11 attacks were viscerally brought home when his father-in-law, working in the south tower of the World Trade Center, escaped and walked uptown, arriving covered in ashes at the apartment of Mr. McCann and his wife, Allison. Mr. McCann always knew he wanted to write obliquely about Sept. 11 using Mr. Petit's walk as a leitmotif. But as he spun out his story of interconnected lives, [he]. . .researched the history of 1970s New York in the New York Public Library, and the writer Richard Price introduced Mr. McCann to a police detective who took him on tours of the city. He also talked to computer hackers, older graffiti taggers and a judge to help make several of the novel's characters accurate.. . .[H]e would always defend the notion of hope. 'I would stand up and go bare knuckle for that'." (Reviewed by our Fiction Book Club).
He talked about his father-in-law's ash-covered shoes and his reactions to 9/11 to write the book in Irish Writers in America, broadcast on CUNY-TV, November 2013.

I think the image of Ground Zero as "my heartache" in the Martin Scorsese-directed Robert DeNiro American Express commercial is lovely, not exploitative. An aired-once Budweiser commercial is just a melancholy tribute.
But the 2016 Colonial Williamsburg Super Bowl commercial 2/7/2016 was. Narrated by "Greatest Generation" chronicler Tom Brokaw, historic images time-travel backwards, including, jarringly, the burning, smoking South Tower of the World Trade Center in reverse to before the attack: "When you reflect upon our sacrifices, our breakthroughs and yes our heartbreaks. . .Where did our fight come from? Our strength. Our heart. Where did our spirit first take shape?" NY Daily News reported the ad regionally-targeted to New York, Philadelphia and Washington, D.C. viewers, which made it even more offensive.


The Cats of Mirikitani shows the surprising ramifications on people downtown, revealing lives. The impact on another Japanese-American is seen in Redemption, a Downtown Docs/HBO production nominated for the 2013 Best Short Documentary. Homeless can and bottle redeemer "John", originally from Okinawa, mimes the falling of the Towers as where he used to work on computers.

9/11 Kids - With director Elizabeth St. Philip, a Canadian film team re-focuses attention back to the students in that Sarasota, FL elementary school where President Bush was listening to these young POC readers when he was informed about the attack – and what's happened to them since as they have experienced two decades of changed American life in a yet still-segregated community. (review forthcoming) (previewed at 2020 DOC NYC Festival)

Moments Like This Never Last - Using her own vivid footage from the time in this bio-doc of Dash Snow and his milieu, director Cheryl Dunn posits the young downtown artists as the 9/11 generation. While the mostly white male (gay and straight, two minority, two women) skateboarders, graffitti taggers, Polaroid photographers, and multi-media experimentalists were already heavy into first marijuana and then cocaine, the demolition of the Towers they witnessed and the invasion of patriotic tourists below Houston Street that followed drove them into apocalyptic art and the nihilism of heroin, also linked to the American military taking over poppy-growing Afghanistan. At least a few of them, and their art business enablers, survived to tell this tale, mostly in voice-overs so we only see them as respectable older men towards the end. (preview at 2020 DOC NYC Film Festival courtesy of Vice Media)
WojnarowiczAlso showing in DOC NYC was another period bio-doc about the downtown art scene. Director Chris McKim uses the archival footage so that the Twin Towers are a constant looming harbinger image, especially seen under blue skies, though the subject artist died of AIDS in 1992.


Original teaser for Sam Raimi's Spider-Man: As noted by Chris Evangelista on 8/1/2019 about the May 2002 release - "Instead of a standard teaser featuring scenes from the superhero film, an entire mini-movie was created in which Spidey thwarts a bunch of bank robbers fleeing in a helicopter. The teaser ended with the helicopter trapped in a giant web, like a mechanical fly. A giant web…strung up between the Twin Towers. After the September 11th attacks, the teaser was quickly pulled, and never officially released again. Now, someone has restored the original Spider-Man teaser in HD."
The New York Times on 9/11/2019 revealed: "An original animation cel for the satirical 1997 episode of The Simpsons [where Homer searches for a bathroom in the North Tower that was recently returned to syndication] titled 'The City of New York vs. Homer Simpson' was welcomed as a donation to the National September 11 Memorial museum in New York. CreditTwentieth Century Fox, via Jin S. Lee/9/11 Memorial & Museum":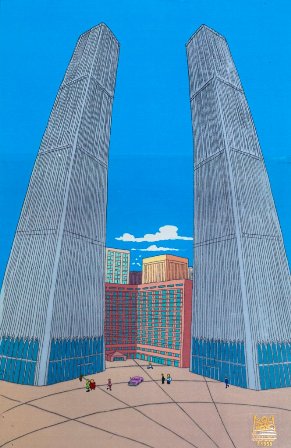 9/11-Related Movie Reviews, Commentary and Recommendations

Nora Lee Mandel is a member of New York Film Critics Online and the Alliance of Women Film Journalists. Her reviews are counted in the Rotten Tomatoes TomatoMeter:


Complete Index to Nora Lee Mandel's Movie Reviews


Since August 2006, edited versions of most of my reviews of documentaries/indie/foreign films are at Film-Forward, since 2012, festival overviews at FilmFestivalTraveler, and, since 2016, coverage of women-made films at FF2 Media. Shorter versions of my older reviews are at IMDb's comments, where non-English-language films are listed by their native titles.



NB: Does not include many made-for-TV documentaries or films I don't recommend

Among the so many documentaries for the 20th anniversary that I can't cover them all, director Michael Kirk and the PBS Frontline team made the chronological Dan Reed's America After 9/11 that pretty much had one primary insight, as the narrator notes: "But in America's response to 9/11, through three [there's an addendum of the fourth] presidencies, a chain of unintended consequences, growing anger, mistrust, division, and ultimately The Capitol again a target." With the graphic video of the military-garbed attackers – in flak jackets, helmets, earpieces, "the visual language of the war on terror" describes one commentator. As expressed by Ben Rhodes, identified as the author of After the Fall: "The January 6 [2021] Insurrection at The Capitol was the logical endpoint of the 9/11 Era. When you have people who can't trust institutions anymore, who are angry that the wars they were promised great victories in didn't turn out well, they started to look for people to blame. As the video shows the military-garbed attackers, Eugene Robinson, of The Washington Post, cites "a sense of frustration and betrayal among those who served in the military during this period of endless war." And Thomas Ricks, author of Fiasco: "Twenty years later we discovered we are the enemy. The biggest national security threat facing the United States is internal. And it has grown partly as a result of American leadership failures over the last 20 years since 9/11." The narrator intones, over vivid stills not of the Towers: "September 11, it was a tragedy that changed everything. In the aftermath, American presidents were called to action, leading the country through decades of conflict that left a legacy few foresaw, values compromised, truth trampled, trust eroded, solidarity broken, wars abroad, then home." In the conclusion, several commentators noted how President Trump used terms of overseas terrorists against first Muslims to "the enemy within", to war at home against half the country, exaggerating domestic threats, "triggering the same emotions" notes Rhodes, and using tools developed during the war on terror to ignore the right-wing terrorist threat they are fostering and encouraging, says Philip Zelikow, Executive Director of the 9/11 Commission. The film's experts compare the rampage vs. democracy to the bipartisan solidarity of Congress singing "God Bless America" together on the same steps on the night of 9/11 and account that as Bin Laden's success.

Hot Zone: Anthrax (premiere November 2021) (6-part docu-drama series on National Geographic Channel) – The only fiction, non-fiction, or combination TV/film I've seen that looks at the the frightening discovery just a week after 9/11 of anthrax spores in the mail in Florida, New Jersey, New York City, and Washington, D.C. – resulting in five deaths and 17 injured. While there have been books on the subject, this series was not explicitly based on one. Primarily written by creators Brian Peterson and Kelly Souders as a follow-up to their 2019 Hot Zone, which was based on a book about Ebola, the dramatic perspective is mostly within the FBI, in D.C. and NYC, that is still shaken, exhausted, and looking for Al Quaeda follow-ups (the attacks, particularly at the Pentagon, appear in their flashbacks), as well as scientists at other Federal agencies, including suspects there. Convincingly, the series posits these poisonous acts as the excuse the Bush Administration seized on to then expand the War on Terrorism into Iraq, with its futile search for bio-weapons of mass destruction, a linkage I haven't seen stressed before.

Dust (Staub) - The documentary includes the environmental and health consequences of the toxic powder from the collapse of the towers in its international survey of particles. (12/3/2008)

The impact of 9/11 is shown as part of the back drop of kids' lives in the documentary Mad Hot Ballroom.

It is hard to separate Fahrenheit 9/11 as an Op Ed piece to just evaluate it as a film.
Michael Moore is effective overall in the film's coherent organization, even though it is too long and has some repetition, some played up for comic relief, and news reports have usurped and surpassed some of his revelations, including findings by the 9/11 commission as prodded by The Families.
Most of the film is a compilation; unlike a book where one can check the footnotes for the source of a quote, one can only see all the film credits at the end and wonder where a clip comes from and why it hasn't been widely seen before. It is roughly divided into thirds and the last third is the most powerful and what stays with the viewer.
The first third is How to Steal an Election 2000 with really pointed attacks on the Bush family and their connections. In between dredging up old news, he does focus on how minorities were particularly affected by the vote, with what I presume is a C-SPAN excerpt of Black Caucus members protesting the election certification, which did not get much attention at the time. It is cheap shots to show various administration officials as they prep for TV interviews.
Ironically, it is this background part that might have gotten the film its unnecessary R rating as in showing the Bush's cozy relationship with Our Traditional Allies the Saudi oil potentates, Moore finds grainy footage demonstrating the Saudi Arabian justice system with a beheading that I'm sure is not too different from what has been seen in PG-13 fictional fare.
Part 2 is 9/11, continuing looking at the Saudi influences, and the calculated lead-up to the invasion of Iraq. Moore very powerfully does not show any WTC images directly, but instead blackens the screen then focuses on the horrified faces of witnesses, particularly of minorities. Surely it was pool coverage that produced the tape of Bush staying in the classroom reading a children's book for eight minutes after he's informed about the attacks -- so why is Moore the first to show it?
While he does make much of tearing off the fig leaf of the Weapons of Mass Destruction and the hypocrisy of the Bush administration about falsely linking Iraq to 9/11, these have been skewered better by Jon Stewart and the crew at Comedy Central's The Daily Show.
Part 3 is the war and is quite intense, involving and moving. He shows how the press was not just embedded but in bed as jingoists, though this aspect was shown from a more interesting perspective in Control Room, which makes an essential sidebar for this film.
Moore is very careful to not repeat a mistake of the Viet Nam War protesters - he is passionate about supporting the troops vs. criticizing their leaders. He refers to the Abu Ghraib prison scandal in bare passing as good soldiers driven to immoral acts by functioning in an immoral situation. Will the G.I.'s who were filmed frankly criticizing the war get demoted like the well-meaning PR rep in Control Room reportedly was?
Then the film takes a turn more reflective of Moore's distinctive flare as he looks directly at the impact of the war on his hometown of Flint, MI, from the recruiters who zero in on unemployed minority kids to loyal and patriotic everyday Americans who now see that they have sacrificed their sons and daughters based on lies. He also subtly chastises anti-war activists who don't respect their overwhelming grief and betrayal.
The universality of the carnage is implicitly considered by showing footage of first a distraught Iraqi mother screaming for revenge and then an equally grief-stricken Michigan mother in D.C. -- is an updated Lysistrata tactic the answer?
The music selection is excellent, particularly the closing choice of Neil Young's "Rockin' in the Free World." (7/3/2004)


The Great New Wonderful marks the lead-up to a nervous anniversary I vividly remember - September 2002 -- so it is difficult to separate out my own recall of feelings of unease and dread in comparison to the film's portrayal of how a somewhat disparate group of New Yorkers experienced the same month or to evaluate it as a film on its own.
It certainly will have more resonance to New Yorkers than to others, even as TV's Rescue Me has already sneered at such feelings of those like most of the characters in the film who didn't directly lose a loved one or colleague on 9/11. But the documentaries and TV shows have focused on survivors and first-responders so that this attempt to capture every day New Yorkers, albeit mostly neurotic middle-class white ones, provides fresh insight.
The film well captures the malaise that seemed to infect us all, powerfully enough that I cried just before the climax, though to me it's like commemorating a yahrzheit, an anniversary of a death. When three-quarters through the film a plane traverses the screen, I gasped, just as I did at noisy planes throughout that month. While it took me over a year until I could even walk by Ground Zero, and then only by looking away from that hole in the ground, the repeating panning to the new skyline has already gotten too familiar to us and no longer has the shock of the gaping hole in the sky, or maybe the golden-tinged panorama is more of midtown with the Empire State Building restored as our icon than of lower Manhattan.
Directed in an European-feeling style by Danny Leiner, like an inter-edited take on the 2002 collection of 11 minute thematically-linked films by 11 international directors 11'09''01 - September 11, the mordant script by debut screenwriter Sam Catlin emphasizes festering explosions of repressed violence in various forms, mocking New Yorkers' contentions that 9/11 would somehow change us forever to be more serious and to appreciate life and despite what we read in the wedding stories in The New York Times for a year or two afterwards. Sharply edited through leisurely short stories that gradually ratchet up in pacing, the characters do not have coincidental mutual impact as in Amores Perros and even fewer interrelations than the characters in Nine Lives except for occasional propinquity that has a frisson of 9/11 jitters.
The five boroughs are represented, with an age range from senior citizens (a terrific Olympia Dukakis' restless Jewish wife in Brooklyn) to a frazzled couple (Thomas McCarthy and Judy Greer) coping with their creepy child who is manifesting more symptoms of an incipient serial killer than the teens in the Columbine-inspired Elephant, to service workers to the rich-- an ambitious pastry chef (Maggie Gyllenhaal as the skinniest baker in the world) and her circle very amusingly prepare for a My Super Sweet 16 on MTV-like party in a satire of "let them eat cake" as she unironically offers a fancy dessert called "The Ophelia"; a meek cubicle denizen (Jim Gaffigan) who apparently was in the Twin Towers that day so is in mandated counseling with therapist Tony Shalhoub that is surely inspired by similar scenes from Miracle on 34th Street; and a pair of Indian security guards (Naseeruddin Shah and Sharat Saxena). I kept expecting the last set to have perceived some increased tensions for being South Asian, but instead the two are coping in divergent ways.
What all the characters share is no control over their lives and dependence on other people's decisions. Each does takes an unpredictable step-- climaxes and catharses (whether violent, sexual or artistic) that vary in their credibility within the film. For most of the characters we see the build-up of their frustration and its aftermath but not their existential act-- like looking at that skyline before and after.
Some secondary characters work better than others. The only character at peace has Alzheimers and wonders how World War II will end. Edie Falco's business lunch with Gyllenhaal is a masterpiece of understated bitchy competition in its timing and politesse, but Will Arnett as the slacker husband does not add anything. Stephen Colbert, as always, is the master of the unctuous, here as the odd student's private school principal. Seth Gilliam is the opposite of his macho cop in The Wire.
The film is full of very New York touches -- we see playwright Tony Kushner backstage at a Kevin Kline performance at The Public Theater, the residences reflect different neighborhoods, and there's lovely scenes of bedraggled Coney Island with a yet still beautiful Atlantic Ocean. Visual juxtapositions abound, such as a very effective scene as the camera backs up to gradually revealed to be taking place on Liberty Island.
The cinematography by Harlan Bosmajian is very washed out. One scene brightened up and I at first thought there was some symbolic importance about characters' growing emotional clarity towards the end, but then it seemed more of a brief accident.
While the score by Brett Boyett and John Swihart is effectively understated and helps to connect the segments, the pop song choices were just plain odd, with zero connection to New York, from Bob Seger singing about L.A., to a karaoke of Canadian Sarah McLaughlin's ode to ice cream, to New Zealand's Neil Finn over the credits.(7/10/2006)


Other fiction films on New Yorkers' responses: (My reviews forthcoming):
Clear Blue Tuesday
The Guys
Extremely Loud & Incredibly Close (glaring lack of New Yawk accents for authenticity)

The Road to Guantánamo is not a documentary. It is a series of interviews interspersed with dramatic recreations and news video. It comes across viscerally as a powerful docu-drama with the feel of "based on a true story" prison films like Midnight Express or war, extending beyond the style of Reds, or Holocaust memoirs that edit together the real and the reel.
Co-director Michael Winterbottom's recreations in situ are so blazingly hyper realistic that they are hard to distinguish from the non-identified actual news video. Though the in-your-face feeling is interrupted near the end with jarring omniscient narration, the film has the direct immediacy of his In This World exploration of young Afghan refugees going in the opposite direction.
But this feckless, eyewitness journey from slacker British young men of a variety of Muslim South Asian backgrounds to modern Pakistan for an arranged marriage to an ancient Afghanistan with motor transport that explodes into the chaos of a war in coalitions from tribes to bombs, and then into the no man's land of Gitmo are undercut by co-director Mat Whitecross's unchallenged interviews with "the Tipton 3". (It is a bit difficult for American ears to always understand their accents and it did take me awhile to keep them straight, as each interviewee is also portrayed in action by an actor, until the conclusion when we see real documentation of them completing the original purpose of their trip.)
While we understand that any first-person account will be self-serving, self-aggrandizing and deflective, their ingenuousness is so remarkable that it is simply hard to believe that any guys presented as this foolish and reckless can live outside a Clerks or Bill and Ted movie. You were going where in October 2001? Because you heard the nan bread there was really good? Because you wanted to "help"? And they were originally four, with one missing and presumed dead from the initial attacks. The illiterate kids on the Iraqi border portrayed in Turtles Can Fly (Lakposhtha hâm parvaz mikonand) without even understanding the English on CNN seemed better informed than these guys. We don't learn until near the end of the film they are ex-juvenile delinquents (though their brushes with the law ironically provide their alibis).
Though it is a bit confusing as to why it took so long for them to admit their British citizenship, their very idiocy and naiveté effectively undercuts the rationale for Guantánamo and its counter-productive interrogations of alleged evil-doers and their sympathizers. The years it took the U.S. and Britain to realize their incidental involvement in history also emphasizes, especially through flashbacks and daydreams to the guys' Western-style adolescence, how late the authorities were to realize that their on-the-ground observations could have been useful intel about the pull of Muslim solidarity, recruitment and attitudes.
The titular progression is key as once they are caught up in the war, each move they experience you think can't get any worse to endure, and then it does get worse and ratchets up further. Their experiences at Gitmo itself seem out of the Inquisition, if not medieval witch trials and look much more like revenge out of Chan-wook Park's Vengeance Trilogy than really providing any useful information that the fictional "Jack Bauer" would get for immediacy's sake in 24. While this doesn't quite get into the territory of the kind of extreme accusations of what happened at Abu Ghraib, and the prisoners are grateful for tiny kindnesses of Americans such as stomping on a threatening scorpion, there is clear disrespect for the Koran and Muslim beliefs, reinforcing the other side's rallying point. We don't see enactments of the hunger strikes or suicides we have heard about recently, so perhaps those happened after these three were released.
As has so often happened to political prisoners through history, these young men end up impressed that their fellow inmates who best withstand the nightmare with discipline are the most observant and ideological such that they are radicalized and by the end they of course refused to cooperate.
I was thinking that the British actors portraying American interrogators had terrible accents, until a closing line that a Brit later claimed he was one of the alleged Americans.
While a viewer has to take the facts with some grains of salt, the film is as gripping as it is cautionary on many levels. (7/14/2006)


Documentaries about how New Yorkers have responded as the 10th anniversary came, and beyond:
New York Thanks You (briefly reviewed in Final Roundup of the 2011 Tribeca Film Festival)
Love Hate Love (briefly reviewed in Final Roundup of the 2011 Tribeca Film Festival)


Other documentaries on New Yorkers' responses:
Breslin and Hamill: Deadline Artists The section on Pete Hamill's life and very New York City yet literary newspaper column style includes a long section on 9/11, with footage of The Towers smoking and falling with ash around, as his column is read and seen on the screen, and he and his wife Fukiko Aoki add their emotional reactions that day when both were downtown and temporarily separated. (Oddly, she is not otherwise seen or even identified as a the Japanese journalist in this bio-doc). (HBO) (preview at 2018 DOC NYC Festival)
Live From New York! (previewed at 2015 Tribeca Film Festival) Amidst the self-congratulatory, mostly uncritical, history of NBC's Saturday Night Live, a centerpiece is the comedy's response to 9/11. After many, many images of the attacks, the Towers smoking, and New Yorkers covered in ashes, extensive clips are shown from their very special episode which featured Mayor Giuliani, who is interviewed here, who appeared alongside FDNY and NYPD first responders.
Out of the Clear Blue Sky (shown at 2012 DocuWeeks) (A Cantor Fitzgerald employee survivor, Lauren Manning, has also written a memoir Unmeasured Strength (Henry Holt, 2011), as has her husband Greg.)
Vito After
The World Before Your Feet - 9/11 memorials around NYC are specifically pointed out by Matt Green as he walks every block of the city. He estimates he'll find about 300 memorials. Here's #259 documented on his blog. (at 2018 DOC NYC Festival)
In The Shadow of the Towers: Stuyvesant High on 9/11 (HBO, 2019) – my daughter-in-law didn't participate in this documentary, but she could have, as she was there. Inspired by a school play, they give vivid first person accounts and photographs, including the experiences of South Asian/Muslim-appearing students, and their families as "collateral damage". Surprisingly, none mentioned having any residual health effects – even though one participant died of cancer at age 32 and HBO added "Many people are sick as a result of their exposure to World Trade Center dust and smoke." And provided information and links for those whose lives and health were impacted by 9/11, including StuyHealth. Lila Nordstrom, the founder and executive director who was a classmate of my daughter-in-law's, also wrote Some Kids Left Behind: A Survivor's Fight for Health Care in the Wake of 9/11 (published 8/2021 by Apollo). Congresswoman Mikie Sherrill, who represents my NJ relatives, led the way to have uterine cancer as a covered condition under the World Trade Center Health Program (WTCHP) at a September 2021 meeting of the WTCHP Scientific/Technical Advisory Committee (WTCHP STAC) – but how many other women's conditions have not been covered?
Director Amy Schatz's companion short documentary What Happened on September 11 (HBO, 2019) is a good introduction for young New Yorkers for whom 9/11 is history. (10/18/2019)
Liberty: Mother of Exiles (HBO) – The impressions and images are from a unique set of New Yorkers – those National Park Service employees who lived in houses on Liberty Island, directly across from the World Trade Center and their fall. One tearfully recalls insisting that the island's flag not be pulled down to half-mast, even in spite of an order from the head of the NPS, implying pride at not being defeated. (10/18/2019)
Letter to the Editor (HBO) – Documentarian essayist Alan Berliner cites the attack as the first news event he'd ever actually lived through, in this rumination on his love for and the coming demise of the daily newspaper. He describes what he was doing downtown at the first and second plane crash, and the fall of the South Tower, noting he developed asthma as a consequence. To identify The New York Times photographs and photographers he montages from his archive, the film's website has to be accessed. (preview at 2019 DOC NYC Festival) (10/30/2019)


More and more documentaries and docu-dramas look into how politicians' and soldiers' perceptions of 9/11 affect the subsequent war being fought in our name, and the impact on people living in the target areas – and everyone else:

American Jihad (premiered on Showtime, 3/25/2017) Director Alison Ellwood includes several clips of the burning Towers as experts, relatives, and a former ex-radicalized American-born ex-jihadi describe the impact of the attack on these Americans, but mostly on the American-born imam Anwar al-Awlaki who influenced them.
Camp Victory, Afghanistan (briefly reviewed at 2010 Human Rights Watch International Film Festival)
Citizenfour (previewed at 2014 New York Film Festival of Film Society of Lincoln Center)
While this documentary did not mention 9/11, its fictionalized Snowden did several times, perhaps because the director Oliver Stone also made World Trade Center, an atypically sentimentalized mish mash from the leading conspiracy theorist in serious cinema. Attributed in the credits to be based on Luke Harding's The Snowden Files: The Inside Story of the World's Most Wanted Man, the director said in a Q & A after the 9/14/2016 preview screening, that he and co-scripter Kieran Fitzgerald primarily used nine long interviews with Edward Snowden in Moscow. So one can only surmise how much of the mentions are Stone's vs. actually Snowden's. The 9/11 attack is given as his primary motivation for following his family's legacy of military service – including that his family thought his father was in the Pentagon during the attack, though he turned out to be out of his office at that time. In addition to a shot of the smoldering pile, Snowden's mentor and teacher at the CIA training facility "Corbin O'Brian" (played with an odd hint of his usual comic roles by Rhys Ifhan so that he comes across as something out of Dr. Strangelove, which is referenced in this film) announces to his class, something like: 9/11 was the responsibility of our generation and we live with it every day. A future terrorist attack will be your responsibility. I'll try to parse my notes to ID the other couple of references. This film also references specific whistleblowers who are featured the documentary Silenced
Dead Reckoning (first broadcast on PBS 3/28/2017) – a three-part docu-series on seeking justice for crimes against humanity and/or genocide showed images of the attack on the Towers in Part 3 "In Our Time" as it tried, somewhat unsuccessfully, to wrestle with the issue of whether such terrorists counted.
In the "Saddam Hussein" episode of PBS's The Dictator's Playbookd, first broadcast 1/16/2019, images of the attack on The Towers are accompanied by John Nixon, former CIA analyst interviewee saying: "9/11, that's the day Saddam's death sentence was signed." Nixon is the author of Debriefing the President: The Interrogation of Saddam Hussein.
Enemies: The President, Justice & The FBI (on Showtime, 2018) The 4th, final episode (first shown 12/9/2018), directed by Alex Gibney, shows the Towers in smoke, then interviews White House and FBI participants and journalist observers in the direct reactions in the aftermath, and inside looks, as far as some will tell, on how policies and inter-agency relationships, and legal interpretations changed.
Dirty Wars (and the accompanying book)
Fixer: The Taking of Ajmal Naqshbandi (briefly reviewed at Part 1 Recommendations of 2009 Tribeca Film Festival)
A Fragile Trust: Plagiarism, Power, and Jayson Blair at The New York Times (Notes: The documentary shows many images of the Towers' falling and goes into the exhaustingly stressful impact of 9/11 on the reporters and editors to produce their Pulitzer Prize-winning coverage on the attacks, the victims, and the follow-up.) (previewed at 2013 DOC NYC Festival)
The Green Prince (previewed at the 2014 Human Rights Watch International Film Festival at Film Society of Lincoln Center) (Notes: shows how the Department of Homeland Security's post-9/11 paranoia about potential Islamic terrorists colors their perception of Muslims regardless of their individual stories.)
Her Socialist Smile - ironic reference to the collapse of the World Trade Center and resulting fires destroyed the personal and organizational archive of anti-war revolutionary Helen Keller. (at 2020 New York Film Festival of Film at Lincoln Center)
Holy Wars (seen at 2010 DocuWeeks) Perhaps I didn't originally list this fascinating documentary here because 9/11 wasn't specifically cited, but this absorbing contrast between two devoted religious leaders -- a young American evangelical pastor, who does learn and change, vs. an increasingly rigidly radicalized Irish Muslim convert imam -- was remarkably prescient and insightful on the growing role of fundamentalist religion in the conflict that led to 9/11 and continued from it. From the perspective of 2015, I pessimistically think a lot about the alarming lessons in this film.
Into The Night: Portraits Of Life And Death (Shown on PBS 2018) – Director Helen Whitney made an unusual visual decision in introducing a monologue by Briton-Pakistani Majeed Nawez, identified as a "former Islamic radical". As he explains the attraction of martyrdom for death, the ruins of the World Trade Center are seen surrounded in dark smoke, instead of the usual repeat of the planes crashing, flames pouring out, and so forth.
Jihadists (Salafistes) (documentary re-edited from its 2015 release in France for U.S. release in 2019) Co- Directors French filmmaker François Margolin (who added an introduction about having family die in the Holocaust) and Mauritanian-Malian-French journalist Lemine Ould Salem managed, at great risk, to interview extremist Islamic theologians and enforcers in Tunisia, Mali, and Mauritania. A French-speaking Tunisian who runs "The Modern Salafist" website says, in French: "9/11 was a good lesson for the United States. They've spent years killing innocent people. It's not up to me to say it was lawful or not, but they gave a good lesson." I think he's the one who continues with threats: "We want peacei in Mali. We have top level fedayeen ready to be martyrs per orders. If NATO is involved against the Islamic State in Mali, we'll multiply 9/11 tenfold", which the director unnecssarily accompanies with images of the Towers coming down in flames and smoke. I also object to the inclusion not only of extensive ISIS propaganda videos, which the director's added statement justifies because interviewing them was too dangerous, but of journalist's James Foley's forced statements before his execution.
The Kill Team (briefly reviewed in 2013 Documentaries at Tribeca Film Festival)
The List (previewed at the 2012 Tribeca Film Festival) (Kirk Johnson emphasizes that 9/11 was a motivation both for his Middle Eastern Studies and service with USAID, so that it's that much more ironic that the subsequent increases suspicions of Homeland Security raise the bar on refugees from terrorism entering the U.S.)
Of Men And War (reviewed at Human Rights Watch Film Fest '15: Violence & Vigilantes at Film Society of Lincoln Center) (seen at MoMA's 2015 Documentary Fortnight)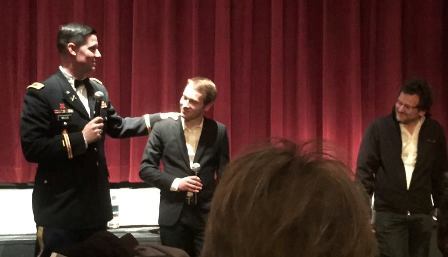 (Note: Though not mentioned in the portrait of the therapeutic work of The Pathway Home, with veterans suffering from PTSD [that years later had to close due to a tragic shooting by a patient], Lt. David Wells, who was at the screening in full uniform to demonstrate his pride to be returned to military service, thanked the editor/producer, the director Laurent Becue-Renard and the DP who was filming the Q & A, then made a point of emphasizing that his grandfather served in WW2 and his father, who served in the Viet Nam War, was at the Pentagon on 9/11, so he signed up "24 hours later. I wanted to get the bastards who did this to us" – and ended up serving as a mortician in Iraq.) (updated 12/19/2018)
The Newburgh Sting (previewed at 2014 Tribeca Film Festival) (Note: The documentary claims the Department of Homeland Security selected the Riverdale, Bronx, NY targets to resonate with post-9/11 fears in particular, with WTC illustrative images. Reviewed with 1971 for comparison of pre-9/11 FBI surveillance under Hoover.) (T)error is like a follow-up in Pittsburgh and Brooklyn. (previewed at 2015 Tribeca Film Festival) (reviewed at Human Rights Watch Film Fest '15: Violence & Vigilantes at Film Society of Lincoln Center) Watched (short) (briefly reviewed at 2017 Tribeca Film Festival) is similar experience for Muslim women college students in Brooklyn. And in an Arab-American community outside Chicago: The Feeling of Being Watched (preview at 2018 Tribeca Film Festival)
Dan Reed's In the Shadow of 9/11 - broadcast as a PBS Frontline episode 8/10/2021, was even more disturbing. Showing how the FBI, in a panic to implement Pres. Bush's directive to stop the "next attack" entrapped the "Liberty City Seven", Black hustlers in Miami, into unbeknownst terrorists, over three trials, with long prison sentences and deportations. (updated 8/11/2021)


The Pervert's Guide To Ideology (briefly reviewed at 2012 DOC NYC Festival) (Philosopher Slavoj Zizek and director Sophie Fiennes approach the end of a century of their historical cinematically illustrated lecture by segueing from Sartre pronouncing there is no God, to Osama bin Laden, to long images of the burning and crashing World Trade Center. He interprets the visual message as not being about fundamentalism, but about people seeing themselves as instruments of divine will directly. Then he segues back to the totalitarianism of Stalin's "Perfect Servant". At least, that's what I can recall in gleaning my confused notes.)
The Prisoner Or: How I Planned To Kill Tony Blair (4/1/2007) (emendations coming after 10/1/07)
Regarding Susan Sontag (briefly reviewed at 2014 Tribeca Film Festival) (Note: The bio-doc opens with images of the smoking Ground Zero and her articles and appearances on TV defending her thoughtful opinion that the attack was a result of U.S. foreign policy come home to roost and the controversy that generated.) (My additional note on her as a Jewish woman.)
Restrepo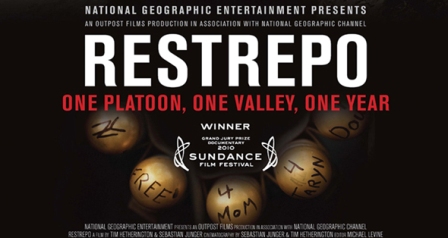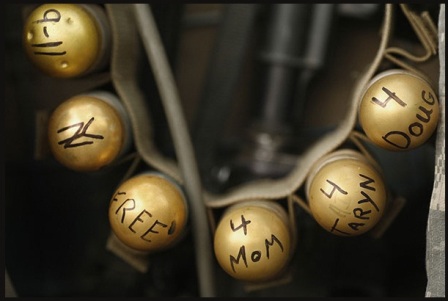 The documentary's poster, excerpted on the left, crops out 9/11 from Tim Hetherington's [R.I.P.] original photograph, on the right, of a soldier's marked-up grenades symbolizing his reasons to fight, though it can be seen in this promotional web Gallery section. Maybe Nat Geo thought the NY baseball symbol was enough. And then they cut the whole image off completely in the movie ads.
Junger's 2014 follow-up seemed to forget 9/11: Korengal
Hondros is similar to Junger's Which Way Is the Front Line from Here? The Life and Time of Tim Hetherington (2013) and Brian Oakes's Jim: The James Foley Story (2016) in following the life and work of a renowned photojournalist killed in the unending Mideast wars that have followed 9/11. But as written and directed by his colleague, and on-screen interviewee, Greg Campbell, the attack on the Towers had a central place in Chris Hondros's life and career. The documentary not only includes several of his photos from the smoking pile, but colleagues recall he was the first to call them to turn on their televisions, then the first to say hours later "The real story is in Pakistan" and was the first to arrive to cover the reactions and the extremists there. (previewed at 2017 Tribeca Film Festival)
The Problem With Apu (at 2017 DOC NYC Festival before premiering on TruTV on November 19, 2017) – The Queens-born and raised comedian Hari Kondabolu discusses how he had to change his stand-up shtick about being Indian-American after 9/11, to get more serious about stereotyped representations of South Asians in movies and TV.
Silenced (previewed at 2014 Tribeca Film Festival) (Note: With frequent, repeating images of the before, during, and after of the attacks on the Towers, 9/11 is constantly referenced as the demarcation in changed intelligence policies and crackdown on whistleblowers.)
On Reveal, the investigative news series (PBS) - "The Terrorist Hunter" segment, directed by Ann Shin (Season 2, episode 1, originally shown 5/25/19) repeatedly shows the image of the Towers in flames to illustrate that 9/11 changed national security to bring in many private counter-terrorism companies, like Iraqi-Israeli Rita Katz's SITE Intelligence Group, whose business model for contracts depends on constantly seeing more threats.
Spielberg - Director Susan Wagner Lacy makes a point in this bio doc of pointing out his post-9/11 themes in such movies as Minority Report, War of the Worlds, Munich, Lincoln, and Bridge of Spies. (previewed at 2017 New York Film Festival of Film Society of Lincoln Center)
The Unknown Known (previewed at 2013 DOC NYC Festival) (Note: Donald Rumsfeld avoids answering the wrong turn from the Towers to Iraq.) (My additional note.) See it with The World According to Dick Cheney, that I haven't watched yet from Showtime except to see the opening image of the attack and the then-Vice President's still determined rationale. (Compare to the satire Vice.)
The Western Front (briefly reviewed in Recommended Documentaries at 2010 Tribeca Film Festival) (So, nu: my commentary on the Jewish woman.)
When They See Us (2019) (on Netflix) In director Ave DuVernay reconstruction of the infamous "Central Park Jogger Case" as a four-episode docu-drama series, the footage of the 9/11 attack is played on the prison TV to indicate time passing for the only boy who had to serve in adult prisons because he had just turned 16 in August 1989. Otherwise, time and years are not indicated in the series at all.
Won't You Be My Neighbor?: (My capsule "Best of 2018" review) Morgan Neville's 2018 bio-doc of Fred Rogers is the first documentary I've seen about the impact of 9/11 on the subject's life or activities that refrains from showing The Towers attack, in flames, or falling. Rather, in focusing on PBS turning to Mr. Rogers, who had just started doing "theme programs" on issues, to advise parents on how to help young kids cope and what to tell them in a TV PSAs, the only images are of the chaos in Manhattan and people's reactions.
You Don't Like The Truth—4 Days Inside Guantánamo (briefly reviewed at 2011 Human Rights Watch Film Festival, dedicated in memory to my activist dad)


In a valedictory interview in The New York Times, 12/17/2017, Maureen Dowd asked in a "Confirm or Deny" format to Sheila Nevins upon retiring from HBO Documentaries: "You never want to see another 9/11 conspiracy documentary." Nevins: "Never. Or a J.F.K. conspiracy documentary. I think it's harmful. I mean, we think that one person can't do evil. One person can do a lot of evil. One bullet, one person." Somewhere must be a list of all the 9/11 docs HBO produced.


And now the war can even be satirized as in the biting In The Loop. (Briefly reviewed in Part 1 Recommendations at 2009 Tribeca Film Festival) and even jihadis in Four Lions.
Applesauce amusingly manages to satirize treatment of Muslim Americans since 9/11 within a bawdy sex comedy. The Turkish-American director/writer/star Onur Turkel, playing a social studies teacher, draws the Towers on the blackboard and tries to get his bored, fresh, diverse Brooklyn students involved: We all know about September 11. [This was] reduced to a big heap of smoldering rubble. And now Iraq is in pieces. Instead of going to war, what are some of the alternatives we could have done? Amidst the bed-hopping, one wife shakily pulls out a cigarette: You know a lot of people started smoking after 9/11. Her lover: Maybe the cigarette companies were behind it. (previewed at 2015 Tribeca Film Festival)
Vice: Vice is a semi-satirical docu-drama of how Vice President Dic Cheney (a chameleon Christian Bale) used 9/11, seen in several TV images, to take over the U.S. government and wage war – to the benefit of his former firm Halliburton and as encouraged by his Lady Macbeth-styled wife Lynne (a startling Amy Adams). Both wickedly funny and scary, writer/director Adam McKay claims to have done as much research as possible, given how secretive the Cheneys are. (Compare to documentaries.)




More fiction films that reference 9/11 and its global aftermath, but not necessarily from New Yorkers' POV (incomplete):
Amanda: As directed by Mkhaël Hers and written with Maud Ameline, there is no mention of 9/11, nor is it based on a real terrorist attack in Paris. But through fiction, this is one of the most sensitive portrayals I've seen of the impact on families of the victims, wounded, and survivors. (preview at 2019 Rendez-Vous with French Cinema at Film Society of Lincoln Center)
Amreeka (briefly reviewed at 2009 New Directors/New Films of Film Society of Lincoln Center/MoMA)
The Broken Circle Breakdown (previewed at 2013 Tribeca Film Festival) uses the images of the Towers burning and falling, as seen in Belgium, to link George Bush's televised speech after the attack to his later televised speech explaining his veto of Federal approval/funding of stem cell research due to religious objections, as personified in a young, adorable cancer victim's death and her father's raging screeds against religion. He even explains to his daughter that bird society may see those who fatally fly into the porch's glass windows as martyrs who will get to play with young birds in bird heaven.
Horses of God (Les Chevaux de Dieu) (2012) (Note: Director Nabil Ayouch, who in an interview with Tobias Grey in The Wall Street Journal, 5/8/2014, is described as having "a Jewish Tunisian mother and a Muslim Moroccan father, grew up in the Paris suburb of Sarcelles and moved to Casablanca 15 years ago", opens this film with the intentional irony of parallel comparison with his sympathetically poignant Ali Zaoua: Prince of the Streets (2000) about Moroccan slumdwellers. But now he notes them watching the TV coverage of the towers in flames with definite approval, and then definite disapproval at TV coverage of the Western allies' consequent invasion of Afghanistan, all external factors he didn't see before which contributed to an atmosphere that inflamed young men to turn to terrorism.)
The Humans (2021) – (based on the play by writer/director Stephen Karam) At Thanksgiving dinner in Lower Manhattan years later, the patriarch from Pennsylvania (played by Richard Jenkins) is still haunted about being there with his older daughter (played by Amy Schumer) on 9/11 for her job interview on a lower floor of The Towers. [more detail forthcoming] (seen on Showtime)
A Most Wanted Man - Compared to the opening background scroll in the taut, suspenseful, humanistic, anti-bureaucracy, German-set thriller, the John le Carré novel makes the link even clearer in "Bachmann's Cantata. It ran as follows: When 9/11 happened, there were two ground zeros. . .One ground zero was in New York. The other ground zero that you don't hear so much about was right here in Hamburg. . .That courtyard out there was a hundred feet high in rubble, all of it paper. And our pathetic barons of the German intelligence community were raking through it trying to find out where the hell they'd gone so terribly wrong. . .Hamburg screwed up. Everybody else had screwed up, but Hamburg took the fall."
School's Out (L'Heure de la sortie) - Based on a novel by Christoph Dufossé that I haven't yet read, the WTC attack contributed to a French class of intellectually gifted middle-schoolers violently freaking out about all the man-made and natural disasters ruining their world. The specific images director Sébastien Marnier selects are of people jumping out of the towers and people walking through the dust of the collapse, segueing into media coverage of Middle Eastern war. (preview at 2019 Rendez-Vous with French Cinema at Film Society of Lincoln Center)
Sieranevada I wouldn't expect a family memorial gathering in Budapest, Romania to be riven by debates about 9/11 conspiracy theories, but Cristi Puiu sets them three days after the Charlie Hebdo attack and terrorism is on their minds. As the characters each face truth vs. lies, the wife is obsessed with capitalist consumerism, the mother finds solace in religion, her elderly woman friend vociferously defends Communism, a sister/young mother bitterly complains of their suppressions, her doctor husband "Gabi" (played by Rolando Matsangos) who was in NYC on 9/11 expounds on overall linkages to every attack, in the press notes the director explains: "He's disturbed by everything that is said about this event, and he's right to be in that it's important to talk about everything. But when he builds his reasoning on conspiracy theories found on the Internet, that's where he's wrong. Generally speaking, we never know more than a little fragment of reality when it comes to history. . . I could've also taken the Second World War. It just so happens that up until September 11, 2001, I was reading a lot of testimonials about communist prisons. I wanted to revisit communist history. The Communists falsified history with a very clear program. Once again, I don't think anyone can really believe since then that History is stable or that there is any immutable truth." [He goes on more about history!] And that's one of the funniest sections of the film! (previewed at 2016 New York Film Festival of Film Society of Lincoln Center)
Paradise Now

Films on the fall-out from 9/11 that I haven't formally reviewed:
American Folk (commercial release 2018) (Note: Originally titled September 12th, this is a sweet road movie of two young people and Americana cassette tapes going cross-country from Los Angeles (Laurel Canyon) to NYC in a hippie 1972 Chevy van full of guitars and folkie cassette tapes after the airplane flights were cancelled. Though we don't learn a lot about them, other than "Elliott" (Joe Purdy) is near washed up singer/songwriter/rock guitarist and "Joni" (Amber Rubarth) has been caregiver for her ill mother because her sister is estranged, they duet lovely traditional and country songs together ("Bring back the folk!"). They also gauge the reaction to the terrorist attacks, from those glued to their TVs to one without a TV so is oblivious, to the half-mast flags and flag paraphernalia everywhere, and the end-of-the-world-itis that brought people to self-realization and family re-unifications, as well as anger for revenge – if they could figure out against whom. Debut written/directed, and independently released by David Heinz (with beautiful "See the USA from Your Chevrolet" scenic cinematography by Devin Whetstone, despite annoying slo-mo for flashbacks and emotions), the diverse people they meet and plot turns aren't stereotypical or predictable.
American Sniper (2014) (Note: Unlike most based-on-a-true-story of soldiers serving in Afghanistan and/or Iraq post-9/11, let alone wholly fictional ones, Chris Kyle was already a Navy Seal when he watched the Towers fall on TV. While his memoir, co-written with Jim DeFelice and Scott McEwen describes his long-standing desire to serve in the military, first going to recruiters in 1996, then enlisting in 1999, Clint Eastwood's film shows him, as foreshadowing, being inspired by al-Queda's terrorist attacks on the East African embassies in 1998. 9/11 instead is a day of urgent text messages to report back to his base. In the film, this immediately leads to his first deployment; in his memoir, it leads to immediate training for fighting in the desert; in his memoir, he first served on ships in the Persian Gulf blocking shipments to Iraq.)
A Mighty Heart (2007)
Armadillo (previewed at 2010 DOC NYC Festival)
Among the Believers (previewed at 2015 Tribeca Film Festival) (Note: The madrassas run by the Red Mosque of Pakistan, which moderate Muslims accuse of inculcating intolerant jihadism in children from a young age, use a textbook that teaches the alphabet with the Arabic equivalent of "collision" illustrated with drawings of the two airplanes crashing into the Twin Towers.)
Bad Voodoo's War (2008)
Bannon's War episode of PBS's Frontline, first broadcast on 5/23/2017, writen by Michael Kirk & Mike Wiser, about the rise of President Trump's top advisor, showed that I've left out the right-wing, apocalyptic views of 9/11. Julia Jones, the co-writer of Stephen K. Bannon's documentary In The Face of Evil: Reagan's War in Word and Deed (2004) describes how he added a coda to the tribute to President Ronald Reagan. The final clips from the documentary show footage of the World Trade Center attack, newspaper headlines about it, photographs of the attackers, as, ominously, "the nature of the beast" over a large congregation of some other Muslims somewhere praying.
Bansky Does New York (previewed at 2014 DOC NYC Festival before its HBO showing) (Note: Documenting street artist Banksy's October 2013 residency includes his Tribeca-located 9/11 tribute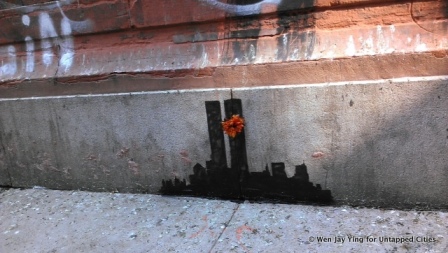 and his rejected Op Ed submission to The New York Times blasting the architecture of the Freedom Tower. "The Native New Yorker" columnist for The Gothamist, Jake Dobkin, damned a notorious Banksy imitator's mural on the Century 21 Store facing Ground Zero on 9/11/2015: "N.B.: This outrage may be hard to understand for those of you who weren't here on 9/11. I think even after all this time, there's still an enormous chasm of history that separates everyone who lived through it from the people who moved to New York later on."
Battle For Haditha (2007) (fictionalized - needs to be seen with Rules of Engagement)
A Brony Tale (previewed at 2014 Tribeca Film Festival) (Note: Psychologists who have studied "bronys" – the primarily adult male fans of the revived cartoon series My Little Pony -- cite reaction to stress from 9/11 as a reason for the popularity of these peaceful, feminine role models.)
Brothers (Brødre) (Better than the American remake)
By Sidney Lumet (2016): In the interview originally conducted by Daniel Anker in 2008, Lumet describes selecting the Twin Towers as the climactic Oz in The Wiz (with documentary director Nancy Buirski inserting movie clips during his explanation) - "I could think of no location in New York I found more fantastic and thought would be more worthy than the World Trade Center. It was attacked mercilessly architecturally at first. I found them beautiful. So I did Oz there. We added an enormous platform for the dancers. Green is lousy for photography so I had the lights change to red and gold. We were there for four days and nights. When 9/11 happened and I saw the second building come down, it really broke my heart. I had a working relationship with it. I felt it was my space!" (approximate transcription)
Camp X-Ray (2014) (Note: The film opens with TV coverage of the World Trade Center in flames – but as we hear an Arab commentator, the camera moves back to reveal it's being casually watched in a Muslim home. And then the apartment dweller (played by Peyman Moaadi, of A Separation (Jodaeiye Nader az Simin)) is covered with a black hood, and lands in Gitmo with lots of facial bruises. There are virtually no other references to terrorism as the rest of the film takes place within the claustrophobic bounds of the detention center.)
Les Cowboys (2015) (previewed at 2015 New York Film Festival of Film Society of Lincoln Center) In Thomas Bidegain's somewhat confused French film, jarringly angling between stereotypes and humanism (as was its inspiration John Ford's The Searchers), of a family torn between the parents' love of American country & western culture and a red-headed daughter "Kelly"s (Iliana Zabeth) seduction in 1994 into Islamism by an immigrant Muslim boyfriend, the epic nature of her "kidnapping" and her father "Alain"s (François Damiens) obsessive, cross-cultural search for her, takes on a new political angle when her brother "Georges" aka "Kid" (Finnegan Oldfield) joins a shocked throng transfixed by the flaming World Trade Center towers on 9/11, soon followed by his later TV glimpses of the 2004 Madrid (11 M) and the 2005 (7/7) London bombings, as he continues to track her through Afghanistan and back to Europe, on his way to a separate peace.
Grassroots (Notes: The memoir the film is based on expands more into the writer's personal life, including his perspective on how 9/11 made folks, um, sleepless in Seattle. Even as the post-attack paranoia blows a foolish campaign prank at City Hall onto the FBI's radar, the idealist-turned-political candidate steels himself to win: We spin 9/11.)
Cult of the Suicide Bomber (2005) (by Baer, not Rehov)
Far From Afghanistan (2012), modeled on the 1967 French collaborative documentary spearheaded by Chris Marker Far From Vietnam (Loin du Vietnam), includes extended images of the planes flying into the World Trade Center and their smoky fall counter-posed with the U.S. bombings of civilians in Afghanistan. (previewed in Cinema of Resistance at Film Society of Lincoln Center)
Full Battle Rattle (2008)
Good Kill (fiction) Writer/director Andrew Niccol opens with a scroll, as the whole film resonates about 9/11: "After 9/11, using military unmanned weaponized drones in the war on terror. This story takes place in 2010, when targeted killings escalated. Based on real events.", modeled what was available through WikiLeaks . A new "Airman Vera Suarez" (played by Zoë Kravitz) and more experienced drone pilot "Major Tommy Eagan" (played by Ethan Hawke) get more and more upset at the collateral victims of bombings, but their commander "Lt. Colonel Jack Johns" (played by Bruce Greenwood) insists: We did not know the kids would show up. But they knew well there were children in the aircraft they flew into the Twin Towers. They walked past them into the cockpit. I do not want you being afraid to shoot. Take a day off. But tensions rise when the drone team is re-assigned to the CIA and they get more and more uncomfortable with their missions (and I lose track here of who was arguing): Colonel: Last time I checked, Langley. We are not at war with Yemen. The disembodied voice from CIA Headquarters (Peter Coyote): We respect the sovereignty, when they act with the law, Colonel. Unfortunately, we face enemies who do not comply with the rules. Of necessity, the war on terror have become borderless. . . In our assessment, this al-Qaeda cell is an immediate threat. The argument continues among the team members: It lasts long before the boy can keep a Kalashnikov. But it is quite clear that we are looking at a genuine terrorist factory. -- The best recruiting tool al-Qaeda ever had. Team member: We can kill them faster than they can produce them. -- Pray they never get drones. -- They will not spend money on drones when they can put a bomb on a child. -- Did you know the Times Square bomber was trained in Yemen? -- Reason why he would bomb us was drone attacks. So we should continue to hit them with drone attacks, right?--- No wonder they hate us. They have always done. We will always be the bad because we let women go to school. And it does not stop hating us until they have Sharia laws throughout the world.-- It was kids! -- The father should not take them there. -- They live there! --This is a military base, it is our job. We are fighting a war and winning. We save American lives. (Previewed at 2015 Tribeca Film Festival).


Grace Is Gone (2007) (fiction)
The Hurt Locker (2008) (fiction feature based on nonfiction book)
In Infinite Football (Fotbal infinit), Corneliu Porumboiu's portrait of a Romanian bureaucrat, he blames the attack on the Twin Towers for keeping him stuck at his boring job by preventing opportunities he had to go to the U.S., first for the immediate travel restrictions, then for visa limitations, though the jobs sounded like migrant farmer harvest work. (preview at 2018 Art of the Real of Film Society of Lincoln Center)
Iraq in Fragments
The Journey (My additional note.) (2017) Note: In scripter Colin Bateman's imagining of the negotiations between Protestant Nationalist Ian Paisley (Timothy Spall) and Irish Republican Army leader Martin McGuinness (Colm Meaney) in 2006 that led to peace in Northern Ireland, this version of McGuinness warns of the impact 9/11 has had on younger potential terrorists – now they want bigger bombs, bigger targets, with more dead to get more public attention.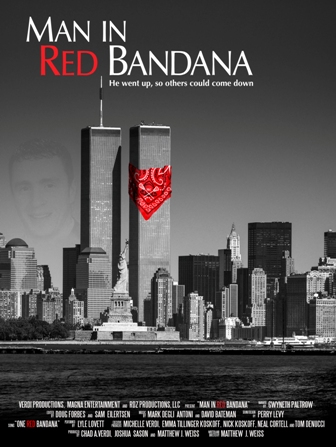 The Man Who Saved The World (2015) A docu-drama hybrid (parallel to the German fiction mini-series Deutschland 83) about the Russian colonel who had the guts to not order retaliatory nuclear missiles when their system showed – in error -- that the U.S. had launched 5 missiles at the U.S.S.R. Among the many images of bombs set off by others without his restraint, there are many repeated images of the World Trade Center in flames and the panicked crowds.
Marathon: The Patriots Day Bombing (previewed at 2016 DOC NYC Festival prior to HBO showing) The reference to 9/11 comes in an unexpected comparison: one of the Boston Globe reporters (the paper co-produced the documentary) tears up as he explains why he was determined to get to the bottom of the terrorists' motivations: because of his father. Words failing him as he chokes up, images of the Towers in flames are shown, twice, implying his father died there.
Maurizio Cattelan: Be Right Back (documentary previewed at 2016 Tribeca Film Festival) – While the prankster Italian artist is seen placing a giant "Middle Finger" across from the Milan Stock Exchange (Borsa Italiana) in 2010, a colleague recalls his coming to New York City to scope out a similar public art provocation in early 2001. He was planning an installation that would reenact Wall Streeters jumping out of windows at the Great Depression, but evidently even he, who throughout the film is shown gleefully crossing any boundaries of taste or decorum, had to concede the image lost any ironic humor after 9/11 when people were jumping from high floors for a very different reason. (4/29/2016)
The Messenger (2009) (fiction)
Makers: Women in War (2014) (on PBS) -- Directed by Rachel Grady, this episode of the documentary series on women in different aspects of American life specifically cites 9/11 as the turning point in women being accepted in combat roles and progressing in the U.S. military, because the front line was everywhere and women were needed to liaison with local women.
No End In Sight (2007)
Notes on an Appearance (commentary forthcoming) (preview at 2018 New Directors/New Films of Film Society of Lincoln Center/MoMA
Out There (documentary/fiction cross) (Re: 9/11: As actor Chun Chih Ma searches for his sense of geographic identity among China where his parents' were born, Taiwan where he was born, the U.S. where he lived for several years in school, and Japan where he lives now, his parents compare their experience as potential American immigrants before 9/11, when they felt welcomed, and after, with a relative in New Jersey, when they were met with suspicion and anxiety, disillusioning them from their positive youthful interactions with U.S. soldiers stationed on Taiwan and their American pop culture.) (seen in 2017 First Look Festival at Museum of the Moving Image) (1/12/2017)
Reichstag 9/11: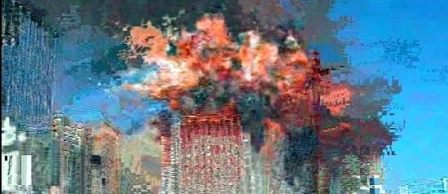 (38 minute short) (U.S. premiere seen in 2017 First Look Festival at Museum of the Moving Image) Ken Jacobs' masterwork, with computer digitizations assisted by his daughter Nisi (who witnessed the Towers' burning from the roof of their loft on Chambers Street while he was teaching in Binghamton), may be the most beautiful and impactful visual art piece/film to come out of the attack. While he let loose in the Q & A after the screening his bitter belief in various conspiracy theories about the neo-conservatives' involvement with Saudi Arabia in order to foment the Iraq invasion, the power was undeniable of his using photographs and videos available around the internet of the buildings and their surroundings, the flaming and smoking outline of the planes on the towers, the jumpers, the first responders' vehicles, and the pedestrians' reactions, each manipulated with a range of colors and emotional computer distortions that communicate the awful horror – in silence. That it was shown with his continuing series of shorts examining his long-time downtown neighborhood poignantly added to the context. (updated 2/4/2017)
Holly Fisher, another experimental filmmaker, incorporated Lois V Vierk's music "Words Fail Me", inspired by her experience as an eyewitness to the fall of the World Trade Center, into two of her image/text works: A Question Of Sunlight (2019) and Out Of The Blue (2021), with Vierk's program notes: "a tribute to all the people of greater New York City, as well as to all people anywhere who survive tragedy and disaster and go on with life with great resolve." The latter film also includes Fisher's filming of the "Tribute in Light" installation on 9/11/2002. (streamed in Anthology Film Archives Vimeo Showcase)
Severe Clear (seen at DocuWeeks 2009)
Spotlight (2015) The impact of 9/11 is seen stretching the resources of newspapers trying to cover the breaking story of the attack, in this look at how The Boston Globe investigative team built up a case against the Catholic Church's treatment of pedophile priests and their victims. I was a bit incredulous that the editor could walk into a practically empty newsroom before 9 am on a Tuesday and only one person would be there and watching the smoking Tower on TV after the 1st plane hit. Given that the two planes left from Boston, it was also surprising that the most experienced investigative reporter (played by Mark Ruffalo) was sent down to Florida to check out the flight trainers rather than further explore the local security issues. (And then have to scurry back home while planes were still grounded to get hold of key court files.) (Plus the link to The Wire)
Standard Operating Procedure (2008) (but needs to be seen with these other related docs)
Stop-Loss (2008) (fiction)
Taxi to the Dark Side (2007) (needs to be seen with Ghosts of Abu Ghraib) (2007)
Brothers at War (2009) (noteworthy that 9/11 is never mentioned for their motivation to fight in Iraq)
Green Zone (2010) (fiction feature inspired by but only loosely based nonfiction book)
The Wounded Platoon (2010)
The Battle for Marjah (on HBO in 2011) a.k.a. Bravo's Deadly Mission (on U.K.'s Channel 4 in 2010) (no mention of 9/11 for why troops are fighting the Taliban in Afghanistan)
The Boy Mir—Ten Years in Afghanistan (previewed at 2011 DocuWeeks) (By finally being more about poverty in Afghanistan than politics, it may be closer at looking at the roots than most other films.)
Hell and Back Again (previewed at 2011 DocuWeeks) (Not a mention of 9/11.)
Flat Daddy (previewed at 2011 DOC NYC Festival) (one NYC family is included)
Lone Survivor (2013) (fiction/docudrama, based on Marcus Luttrell's memoir Lone Survivor: The Eyewitness Account of Operation Redwing and the Lost Heroes of SEAL Team 10) – The only reference to 9/11 is implicit – one of the SEALs wears an FDNY T-shirt.
Return (2011) (fiction) (Significantly, there's no mention of 9/11 in looking at the maladjustment of the National Guardswoman who joined up out of gratitude for help her family got in a flood and a college scholarship, but ended up a drop-out serving at a hospital in Iraq.)
Shock and Awe (2018) With extensive references to the 9/11 attacks in New York and at the Pentagon (with discreetly minimal visuals), this Rob Reiner "based on a true story" film lays out in detail how only the Washington bureau of the Knight-Ridder newspapers figured out how the Bush Administration neo-cons switched the revenge for the attacks from Afghanistan to Iraq and Saddam's non-existent WMD's, as Osama escaped and no other targets were available.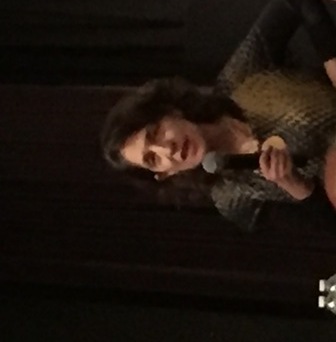 - film participants at the World Premiere, MoMA's 2017 Documentary Fortnight
Tip of the Tongue (2017) The reflections of baby boomers (above) on the impact of 9/11 on their lives included how it made them more suspicious of people and afraid to stand on roofs. (2/26/2017)
Us (2019) That the prologue of Jordan Peele's apocalyptic horror film is set in 1986 is immediately, and ironically, established by long shots around the World Trade Center.
Zero Dark Thirty (2012) (fiction/docudrama), as written by Mark Boal and directed by Kathryn Bigelow, takes an atypical visual approach to 9/11 in fictionalizing the hunt for Osama bin Laden in docu-drama style. The attacks are referenced only in sounds behind the dark opening screen, including emergency phone calls from within the Towers. None of the Americans, who are either composites or purposely not given an identifiable personal history, have a specific back story of connection to the people killed at the World Trade Center or the Pentagon, but instead act to protect the U.S., whether with excruciating torture or a decade of meticulous, determined human intelligence work. In the press notes, however, Boal says: "This story was always personal to me because I grew up in New York City, in the shadow of The World Trade Center and, after 9/11, I really felt I needed to understand more about bin Laden and the U.S. response to him. . . The guy attacked my hometown, and the long aftermath of that day has defined my professional life as a writer. I can't say I picked the topic. Writers, like children, don't always get to pick their influences. It picked me."
While some 9/11 families, unlike some politicians, supported the film, the family of flight attendant Betty Ann Ong specifically objected to the use of the recording of her voice from one of the planes that hit the World Trade Center.


The Report (2019) (fiction/docudrama, available on Amazon Prime) – ["Torture" is symbolically redacted in the title.] Partly inspired by Katherine Eban's July 17, 2007 Vanity Fair article "Rorschach and Awe", writer/director Scott Z. Burns includes reactions to the inaccuracies in Zero Dark Thirty that supported the CIA's self-serving description of how 9/11 changed everything about the agency in order to find the perpetrators. But 9/11 suffuses this entire film, even without showing the Towers hit and falling.

Films that focus on the impact of 9/11 in the U.S. on those perceived as Muslim:
AmericanEast (2008) (in L.A.)
I Am Singh (2011) (Well-meaning but wooden Bollywood outcry against how turbaned Sikhs were attacked and discriminated against in a U.S. full of racist skinhead gangs and bimbo blondes.)


The use of the images of 9/11 for heart-stringing, plot manipulation purposes in the dreadful soap Dear John (2010) was shameless.

The killing of Osama Bin Laden by Navy Seals made me think of issues of justice vs. vengeance that were explored in the documentary broadcast on PBS earlier in the same year as the 10th anniversary: Forgiveness: A Time to Love and a Time to Hate

Though I'm way behind in adding films here, New Yorkers started to incorporate post-9/11 into their film fiction to assimilate what happened, from David Benioff updating his early 2001 novel for Spike Lee's adaptation of 25th Hour in 2002 to The Missing Person in 2009 (which used a snarky noir plot as in several TV shows). A March 12, 2005 New York Times article by Stephen Farber claimed to document 9/11 Is Sneaking Onto a Screen Near You, "But that terrible moment's real impact on cinema has quietly arrived, writ small in a series of new pictures that have no political content but that are suffused with a deep, enduring sense of grief born in the tragedy's wake." -- and the movies he cites in fact have nothing to do with 9/11, let alone how New Yorkers dealt with it then or are dealing with the aftermath or scars. Just several movies about grieving families in general. Farber claims that what's different is that "Sudden loss has ever been the stuff of movies; but the American take on the subject has tended toward tales of healing and inspiration. . . In the much darker season at hand, however, death has recovered its sting." which I don't think is a supportable generalization about how American movies have dealt with death.

Virginia Tech Professor Stephen Prince looks more broadly at 9/11 movie images in Firestorm: American Film in the Age of Terrorism. But is it non-New Yorkers who use visual reminders of 9/11 gratuitously? as in Spielberg's re-make War of the Worlds, as the aliens destroy Bayonne, NJ. but which inspired Post-9/11 anxieties influence spate of films in The L.A. Times by Rachel Abramowitz and John Horn on June 29, 2005: (this excerpt may constitute more than fair use):
". . .Spielberg said in an interview earlier this year with The Times. Noting that he shot the film in a manner similar to the gritty Saving Private Ryan Spielberg added, "9/11 set the tone and made it worth my time and the audience's time to see this story treated in this way."
As in Spielberg's movie, the terror references in some of these upcoming films are indirect. Yet several others, mostly still in development stage, confront 9/11 head on, including planned adaptations of the book 102 Minutes and movies about rescue workers and firehouse chaplain Mychal Judge [Saint of 9/11].
The nearly completed projects range from Syriana, a film chronicling the netherworld of the international oil trade, to Stealth, a drama about unmanned fighter planes and terrorist cells. A number of new independent films — Yes, The Great New Wonderful, and the documentary Protocols of Zion — were all begun in the weeks and hours immediately following the attacks as personal, creative responses to the tragedy.
"You don't want to turn away from the greatest conflict of our generation," said Sally Potter, who began writing Yes the morning of Sept. 12, 2001. "You want to deal with it and make a contribution."
For Potter and several other filmmakers, that contribution rests on using the attacks more as an emotional framing device than as a direct visual or narrative reference. In Yes, an Irish American woman falls in and out of love with a Lebanese man. The intersecting stories in The Great New Wonderful conclude on Sept. 11, 2002.
"One of our concerns was to not make a story that exploits those events, and the emotional resonance around those events," said Michael Nozik, executive producer of The Great New Wonderful (the title refers to one character's bakery). "It's not about 9/11 in a direct way. It's about emotional recovery and grief."
In the immediate aftermath of the attacks, Hollywood was squeamish about making any movies that touched on the themes of 9/11, even tangentially. Any number of movies about terrorists were either scrapped or rewritten. Both The Interpreter and Flightplan . . . were put on hold. The debut of the comedy Big Trouble (whose plot included a bomb on an airplane) was delayed, as was the comedy Sidewalks of New York.
A few art house movies addressed the attacks, but failed to attract audiences; both The Guys, a drama about fallen firefighters and 11'09'01 — September 11, a compendium of short films, flopped.
As time went by, though, a group of filmmakers realized that 9/11 played such a dramatic role in the nation's psyche that ignoring it would be foolish.
Last year, Michael Moore's documentary Fahrenheit 9/11 was a breakout hit. The studios started to change course, embracing the very movies they had avoided just a few months earlier.
. . .In the wake of 9/11, I thought something so interesting was happening," said Stephen Gaghan, the screenwriter of Traffic and the writer-director of Syriana. Rather than fearing a single outlaw as easily identifiable as Saddam Hussein, the country was now dreading a shadowy, shifting villain who moved from country to country, Gaghan said.
"It's an incredible shift. And it's incredibly scary. The discussion [about global politics and oil] has moved front and center. In the 1990s, foreign policy was an abstract. It was all about the Internet, and the stock market. Now your personal security is involved. I was determined to make a movie about what was going on," Gaghan said of his film. . .
Rob Cohen, the director of July 29's Stealth, says his film wouldn't even exist had it not been for the Sept. 11 attacks. "There is a fear now that there is an invisible enemy that is all over the place," the director said. "And we have to come up with a technological answer to this new reality."
In this popcorn action film, that answer turns out to be an unmanned fighter with a mind of its own. "The film tries to explore ideas about war, and how it will not make the world better, rather than, 'Isn't America great?'" Cohen said. The movies posters even feature the ominous tag line "Fear the Sky."
Some filmmaker responses to the attacks are highly individual. Director Marc Levin said his movie Protocols of Zion opening later this year, was inspired when an Egyptian cabby in Manhattan told Levin the attacks were coordinated by Jews as part of their plot for global domination, a scheme laid out in the anti-Semitic tract The Protocols of the (Learned) Elders of Zion. So Levin went out with a camera to interview people on the street about their prejudices and conspiracy theories.
"I felt there had to be another way to discuss religious fanaticism, bigotry and hate," Levin said. Many of his friends discouraged his cinematic inquiry, fearing it would help publicize a loathsome book and reopen fresh wounds. But now that four years have passed, Levin feels the time might be right.
"For a lot of people, [the attacks] were a long time ago," Levin said. "It's moved more forward than I would have thought — it's the hyper-speed of our lives."
Yet for many, the attacks remain in the subconscious, if not discussed, then always remembered. Suspicion and mistrust have become a part of modern American life, and now, it seems, part of Hollywood's. "Paranoia is what happens when you're afraid that something is coming at you right around the corner, but it never materializes," Spielberg said. "Our story starts with paranoia, which is very quickly realized."


How to Make a Movie About 9/11? Carefully by David M. Halbfinger, in The New York Times April 20, 2005: (this may be more than fair use excerpt):
Appropriately enough, the first in an expected wave of movies and television projects explicitly about the trauma of 9/11 will make its debut in New York on Friday at the Tribeca Film Festival, which itself was started to bring a measure of financial and psychic relief to Lower Manhattan months after the attacks.
But the new picture, The Great New Wonderful, is anything but explicit. Crashing jets, falling towers, Islamic terrorists and fleeing workers are nowhere to be seen. Instead the inexpensively made movie, which stars Maggie Gyllenhaal, Tony Shalhoub and Olympia Dukakis, zeroes in on a handful of New Yorkers a year after the attacks as they struggle to cope with emotions - grief, rage, helplessness - that seem inexplicable, and that have no obvious outlet.
The director, Danny Leiner - known for the stoner movies Dude, Where's My Car? and Harold and Kumar Go to White Castle [a different director would in 2008 make Harold & Kumar Escape from Guantanamo Bay] - says he set out not to make a film about 9/11, but to show he had more up his sleeve than broad comedy.
A Brooklyn native, he says he also wanted to make a film in his hometown. And when Mr. Leiner began putting together a script about angst-ridden New Yorkers with the playwright and actor Sam Catlin in the spring of 2002, "9/11 was just there," he said. "It was around us. And it was hard to think of New York without bringing that into the mix."
. . .Hollywood producers are pursuing several sweeping projects that seek to harness directly the full dramatic potential of the cataclysmic 9/11 story: its antecedents and causes, its horrors and its aftermath.
NBC and ABC are locked in a footrace to produce the first mini-series based on the the 9/11 commission report. Columbia Pictures has optioned 102 Minutes, the account of the struggle for survival inside the World Trade Center by Jim Dwyer and Kevin Flynn, reporters for The New York Times. Universal Pictures is developing a screenplay about the last two Port Authority police officers pulled from ground zero alive. [which became Oliver Stone's World Trade Center]. And the producer Scott Rudin has hired a screenwriter to adapt Jonathan Safran Foer's novel Extremely Loud and Incredibly Close, told from the point of view of a precocious 9-year-old whose father was killed in the attacks.
In nearly every case, the producers and others involved say that though they are tripping over one another to be first into production, they are taking plenty of time to grapple with unusually difficult questions about timing, taste and tone:
Are Americans ready yet to watch, let alone pay to watch, a re-enactment of some of the most searing events in their lives? When will enough time have passed? How do you make use of the stories of the victims and survivors without being seen as exploiting them? Then there is perhaps the most basic creative dilemma: Do you show the airplanes crashing into the twin towers? On this, there is unanimous reluctance.
"It's too much," said Stacy Sher, a producer of the Universal project. "We're not ready for that yet."
"Ultimately, that's probably a decision that doesn't get made till the last second," said David Nevins, president of Imagine Television and executive producer of NBC's 9/11 mini-series.
"The plan is to never show the planes hitting the building," said Michael De Luca, a producer of 102 Minutes. Mr. De Luca, who said his project was probably years away from being made, said it would be confined, as was the book, to the stories of people inside the World Trade Center in the minutes before and the hours after the attacks. (The New York Times, as a partner in Times Books, retains a quarter-interest in the screen rights to the book.)
"My courage has never been tested like that," Mr. De Luca said. "It may never be, but I read that book and thought, God, I hope that if I'm ever faced with anything like that, I'd have the courage of those people. Those are ordinary people, not people trained to exhibit grace in the face of extraordinary disaster."
At Universal, Ms. Sher and her partner, Michael Shamberg, the team behind Erin Brockovich and many other films, are making a more narrowly focused 9/11 story that they describe as a fairly conventional rescue film. "Think Saving Private Ryan and Apollo 13, " Mr. Shamberg said. The story is about five police officers, two of whom were killed instantly when the south tower collapsed while a third died because he would not abandon his colleagues; the survivors endured fireballs and worse until a volunteer rescue worker heard one of them banging his handcuffs on a pipe.
Like Mr. De Luca, Mr. Shamberg said his film would be scrupulously accurate. "We learned on Erin Brockovich that what you make up is never as good as what happened in real life," he said. "We're aiming very high: that we can tell a true story that moves people, and that entertains people."
Ms. Sher said that when she and Mr. Shamberg acquired the rights to the stories of the survivors, Will Jimeno and John McLoughlin, "we weren't sure that anybody was ever going to be ready" for a movie about the 9/11 attacks.
Among the television networks, meanwhile, both ABC and NBC are pursuing mini-series based on the the 9/11 commission's exhaustive report, in hopes of getting on the air in the next 18 months. Both insist they will steer clear of a political point of view - "We're trying to be as objective as one can in a medium that is by definition subjective," said Marc Platt, executive producer of the ABC project - while still aspiring to have an impact on everything from attitudes toward Arabs and Muslims to domestic security and emergency preparedness.
Brian Grazer, co-chairman of Imagine Television, which is producing the NBC mini-series - and which has hired The Times as a consultant - said he hoped it would do for Muslims what Wolfgang Petersen's film Das Boot did for World War II-era Germans. "Every approach prior to that was, the Germans were horrible," he said. "He humanized them, because they are human. That's what I'm hoping we do, that we don't demonize, that we humanize all the different sides, and so we see the seeds, and we get an understanding from each culture's point of view as to how they got to such a horrible place."
Asked if even four or five years later was too soon for a cinematic treatment of 9/11, Quinn Taylor, ABC's senior vice president in charge of television movies, said: "The way the government had to react, the way we all had to quickly come to terms with what Al Qaeda meant, how to say it much less how to spell it - that was a tremendous education we all had to go through together. There is distance now to look back at that, and maybe we can channel those emotions into effecting change."
Indeed, Sally Regenhard, an outspoken advocate for skyscraper safety whose son was killed on 9/11 - and who has met with Graham Yost, the writer of NBC's mini-series - said she hoped the end product would be harrowingly graphic. "I think the public should see the people jumping out the windows, the brutal death these people suffered," Ms. Regenhard said. "Because maybe they'll get the truth and put pressure on the system to do something about it. There's a difference between what the families of the victims are ready to see and what the public is ready for. But no one should ever be ready for a fictionalization."


The Hard Look Back Hollywood confronts 9/11 by Missy Schwartz, September 2, 2005 in Entertainment Weekly "analyze[s] whether audiences are ready for two new films and a TV miniseries on the tragic events of that day". She also cites United 93, directed by Paul Greengrass, Oliver Stone's World Trade Center, and the ABC miniseries based on the 9/11 Commission Report and reports that NBC shelved its own 9/11 miniseries. (may be more than a fair use excerpt):
"Why is Hollywood suddenly willing to address 9/11 directly? Timing, for one thing. Both Universal and Paramount are considering 2006 releases to coincide with the fifth anniversary of the attacks. ''As the world approaches [that] anniversary,'' says a Universal spokesperson, ''we think it is legitimate, and even necessary, for today's leading filmmakers to...investigate the events of that epochal day.'' As ABC sees it, the public is owed an explanation. ''We have to tell people what happened,'' says the network's senior VP of movies and miniseries, Quinn Taylor. ''We have to talk about how we got to that moment. I think people are ready to grapple with [9/11] in a way that should at least ask why.''
But how ready is the public? Most respondents to an EW.com poll consider the projects exploitative. When Paramount announced Stone as director of its movie in July, furious debates erupted on the Internet, with many bloggers accusing the studio of capitalizing on tragedy, and others expressing fear that the famously political filmmaker would turn McLoughlin and Jimeno's story into JFK-style conspiracy theory.
Denis Leary, cocreator and star of the FX series Rescue Me, which deals with the ongoing impact of 9/11 on New York City firefighters, is not entirely comfortable with the conjectural approach these films will take. ''I had a friend who was in the plane that went into the second tower, so my head has imagined many times what he was doing, what he was thinking, what he was saying,'' Leary explains. ''And you have to remember, it's about the kids: They don't want to see an actor playing their father dying in what may have been the circumstances. That's fiction versus reality.''
The studios defend their choices. Sources close to the Stone movie insist that unlike his rabble-rousing political films, this one is an uplifting story told from the point of view of the two officers. Universal acknowledges the challenging nature of United 93, but reminds skeptics of Greengrass' deft touch with 2002's haunting Bloody Sunday, about the 1972 Irish massacre by British troops. ''We trust his insight and sensitivity,'' the studio says.
The underlying message of heroism in Stone's and Greengrass' features does seem a relatively safe entry point into such a raw subject. Of course, that's no guarantee of quality. . . But as ICM agent Robert Newman points out, it also produced Spielberg's Schindler's List. ''We've seen the death and destruction of 9/11, so to have an artist's interpretation that shows what humanity could accomplish, and the good within it, I don't think there's anything inappropriate about that.''

FILMING 9/11: Respondents to an EW.com poll had misgivings about Hollywood's retellings
Is it exploitative for Hollywood to make 9/11-related movies?
55% Yes
45% No

Is it disrespectful to make a film based on the events of Flight 93 — which crashed in a field in Pennsylvania — when no one knows for sure what happened during the flight?
59% Yes
41% No

Are 9/11-themed movies different from other films depicting historical tragedies (the Holocaust, Pearl Harbor, Rwandan genocide)?
68% Yes
32% No


9/11 In TV Fiction and Docu-Series

Docu-Series:

Carrier - In the 10-part highly edited series about life on the air craft carrier Nimitz, originally broadcast on PBS in 2008, two of the young Navy crew in the 1st episode "All Hands", cite the 9/11 attack as a reason and justification for their enlistment and ongoing commitment. While serving in the Persian Gulf in the 5th episode "Show of Force", the crew commemorated 9/11 in a formal ceremony, and in an edited array of interview members reflect on their feelings then as "Let's go kill 'em." in response to a terrorist act that keeps them motivated "doing whatever we can to keep our families safe", including writing the names of 9/11 victims they knew on a bomb. But others reflect on why they're in the Gulf to support troops in Iraq when what they were told about the reason was untrue. Several report lots of arguments on the ship, but all recognize their duty to subsume their opinions to their orders.

Bomb Patrol: Afghanistan: On the G4 video game channel, it is like a real-like counterpart to The Hurt Locker, but shows that the EOD (Explosive Ordnance Disposal) patrollers are struggling not only with "enemy" bombs, but to understand the locals (in their "man-dresses") and why, with no references to 9/11, the heck they are there -- except that the young guys have fun sending out robots and blowing things up. (12/30/2011)

Inside the FBI- New York - In a docu-series on USA, the first episode "The New Normal", first shown 4/27/2017, opens with footage of the Towers smoking. Various investigators walk around the Memorial, and a former lead investigator gives his annual orientation talk there about the FBI's role, including around the first bombing, too. Most of the episode consists of airing their gripes at how the CIA handled it and ignored their professionally developed leads and contacts.

First Ladies Revealed (Smithsonian Channel) "In Times of War" docu-series episode included how Laura Bush dealt with 9/11. There's extensive images of the Towers in flames, including the plane flying into the second tower, both in flames, and then each collapsing. The narrator explains Mrs. Bush was on her way to a Congressional meeting, and intones: "By the time it takes for the First Lady to drive from the White House to the Capitol, the world has changed." Mrs. Bush describes what she saw when, and that after the Pentagon attack, the Secret Service raced her to "safety... secure in a Secret Service building." There, she watched a replay of the first Tower coming down, then watched the second tower come down live. The narrator notes she made one of her first public speeches that day, seeing her role as maternal, focusing on what to tell the children, quoting US Magazine as "Comforter in Chief", then exaggeratedly calling her "Mother to the Country" in the crisis. This series was executive produced by Sue Summers and series produced by Michael Burke for Finestripe Productions. (7/20/2017)

The Loudest Voice (On Showtime) – In the docu-dramatization mini-series of Gabriel Sherman's book The Loudest Voice in the Room (that I haven't yet read) and his New York Magazine articles about Roger Ailes's founding and operating Fox News, the second episode "2001" (first shown on 7/7/2019), written by Alex Metcalf, opens on 9/11, and includes a lot of local news footage of the Towers and subsequent fall, as it follows through almost hour by hour on that day. The focus is first on what gruesome images Ailes (played by a grotesquely made-up Russell Crowe to look closely like the older, portly, jowled executive, in his first prestige TV series starring role) chose to show and re-show on the network, then what Republican experts and reactions he chose to present: How do we cover it? Do it like we do sports and Wall Street. Put up a shot of the Towers. Just run it on a loop. This is Pearl Fucking Harbor. We need everybody in the goddamned world to see what these animals have done to us. (7/22/2019)



Fiction

Tom Carson in The Baffler, December 2017, actually minimizes the impact of 9/11 in "Fear Factor: Inside the Paranoia-Entertainment Complex" despite stating "in 9/11's wake, it's been television—once our foremost purveyor of pabulum—that's done the most to redefine our lives as a continuous state of siege."

Third Watch during the 2001/02 season was very emotional as it was the first fictional series to deal effectively and realistically with post-9/11 NYC. The writers and whole staff were clearly deeply affected (see interviews) because many of the technical advisors and uniformed participants in the NYC-shot series about cops, firefighters and medics were killed at Ground Zero. Seguing from an "In Their Own Words" season opener with the actors' real counterparts (which won a Peabody Award), the characters and story lines then really reflected what was happening in New York City immediately and the ongoing impact of 9/11. Originally broadcast April 2002, "Falling" by producer Janine Sherman Barrois, has cocky, macho Officer Maurice "Bosco" Boscarelli (played so appealingly by Jason Wiles) finally stop denying that he could be having panic attacks that are negatively affecting him during the job's usual violence and tensions due to post traumatic stress and guilt from 9/11. After avoiding formal and informal departmental counselors, he breaks down to his partner "Faith" (played by Molly Price - who a month after 9/11 married a firefighter who appeared on the show) with whom he has a long term maternal/big sister relationship:
"Bosco": I got down there right when the second tower was being hit. And they were already jumpin' from the North Tower. People fallin', y'know. Watchin' em. All the way down. There was nothin' I could do.
"Faith": There was nothin' that any of us could do.
They were just fallin'. So hard and so fast and it seemed like it took forever. Ten seconds, 15, I don't really know. I saw a couple people holding hands. Faith, I saw women holdin' their dresses down. That sound - thump. Y'know, I'm just standin' there. I'm just standin' there, doin' nothin'. I mean, what, I pulled on a couple of people. This way and that way. I was frozen. It was like I was frozen. I was numb. I couldn't believe it. And there was this rumble, like nothin' I ever heard before, this huge wave of sound. So I ran. I ran away, Faith.
Bosco, the tower was comin' down.
I just ran. I kept runnin'. I remember I just kept runnin'. And then that cloud came. I couldn't see nothin'. It was just pitch black. I couldn't breathe. I thought that was it. I must have run right into a building because that's when I finally stopped runnin'.
Everybody ran.
I didn't go back.
Yes you did.
No, I sat on the street and I just, I couldn't, I couldn't. I could not go back.
Bosco, I saw you there.
I sat there. I was afraid.
Bosco, I saw you there. You were helping people.
You saw me later. Because I sat there. It must have been like an hour. I was sittin' there for an hour. I don't know how long. I could have been there for two hours.
"Bosco, you were probably in shock.
I ran. God help me. I ran. I ran. I ran. [He collapses in tears.]


In "Two Hundred Thirty Three Days" a few weeks later, executive producer John Wells paid specific tribute to the lost firefighters, via a story line of the remains of a woman firefighter's firefighting dad being found at Ground Zero. His colleagues (played appropriately by actors from Hill Street Blues, the previous generation inspiration for this show) memorialize while looking at the Lower Manhattan skyline after his funeral in Staten Island:
Y'know, I'll never get used to it. I always hated them. Butt-ugly. It's hard to imagine.
It still doesn't feel real to me.
Me neither.
They went there to out a fire and to save people.
(sigh)
233 days.
Wha?
It's been 233 days since September 11th. I've been to 28 funerals and memorial services and I should have gone to more, but some days I just couldn't face it. 233 days and in a few weeks it's going to be over. Every one and every thing that was going to be found will have been found. There won't be any place left to dig. And then we're going to have to just walk away. And there will be a park with a marble monument with names that slowly stop seeming like real people. They'll name a junior high school after somebody. But soon enough it'll just be us. We will be the only ones who remember. That's what we can do to honor the people we loved and lost. We can be the ones that remember.

We see them go back to work -- after finishing off a wood plaque in the fire house that says "Never Forget 9/11/01."


On the same day that in real life the first firefighter was killed in action since 9/11, a fictional one died on the 2003 season premiere, "The Truth and Other Lies" by executive producer Edward Allen Bernero. is distraught wife screams: Can you tell me why? You want to do something for me? Then tell me why this happened to my husband. It sure isn't the money. He worked three jobs so we could keep our kids in a decent school. The people honked their stupid horns for one week two years ago then went back to ignoring all of you. The city's heroes. You're not heroes. None of you. You are husbands and wives, sons and daughters. God help me I don't understand why you would want to do a job that leaves a wife to explain to her children why that [burnt] monster is all that's left of their father.

The 2003 - 2004 season continued to follow the emergency workers' post-traumatic stress. The oldest medic, who the show's creator called "its moral center", "Monte 'Doc' Parker" (played by Michael Beach) started to unravel when one of his EMTs was graphically killed in an accident at last season's finale and he fixated this season on the possibility that the bureaucracy was going to shut their fire station. During the February Sweeps, in "No More, Forever" by consulting producer John Ridley, he explains to police officer "Sully" why he just shot his new stickler supervisor: You remember The Day? The equipment was set by the river. We checked and double-checked our bags because we had the triage set. We were ready for the people. We were ready to help. Nobody came. Nobody. (I remember echoes "Sully.") I remember thinking that they can't all be dead. I mean, not everybody. Then all we could do was pick body parts from the rubble. That's not why I'm here, Sully. You know I'm here to save lives. And if this house is gone then people are going to die and I can't let that happen. I mean, I can't let that happen. You understand that, right? You understand what I'm saying? I can't let more people die.

The 2005 season was suddenly sticking in the usual Arab terrorists fooling around with bombs that have become so common on action shows lately, when the episode "The Other L Word" by returning writer Charles Holland had a very unusual reflective moment from one of the toughest broads on TV "Sgt. Maritza Cruz" (played by Tia Texada) as she anxiously watches her temporary partner on a Joint Terrorism Task Force being patched up in the hospital: He woke up after 9/11 and wanted to make sure it never happened again. All I ever thought about was why is everyone so surprised. Of course bad things happen. I deal with it every single day. I wasn't surprised that those guys could kill thousands of people. That's what we do to each other. Do you know that I didn't receive a single message that day? I didn't call anyone either. Her eyes tear up as her new partner tries to reassure her and suggests matchmaking her up with the injured cop. But in walks his previously unbeknownst to her wife, crying out what will she tell their four year old? Tell him his father is a hero and he is definitely a Lucky man. He's gonna pull through.

On Sundance TV's The Writer's Room, first shown April 25, 2014, co-creator of Smallville, Miles Millar noted about series premiering in October 2001: "Pre 9/11 reaction was negative. The critics were also very hesitant about the show. Then after that event it all changed. People were really looking for a hero, an American hero, for Superman to come back. Timing was crucial for that. We really fit with the change."



Lifetime's Army Wives refrained from using 9/11 as soap opera fodder until the 7th season episode "Jackpot" first shown on 4/29/2013, written by Brian Anthony and Lynelle White. A base commander "General Michael Holden" (played by Brian McNamara) has been pulled into a career debate between a young woman and her mother in the Air Force, a new character "Colonel Young" (played by Brooke Shields): If I may ask, Colonel, where does Jordan's father stand on all this? She: He was killed on 9/11. He was assigned to the Pentagon. He: We lost a lot of good Americans that day. She agrees and the music builds up behind them. Other shows have also stooped as time went by: the web series Anyone But Me (2008) used the premise of a firefighter husband/dad's lingering reactions to 9/11 to explain why they've fled NYC for the Westchester suburbs where the teenage daughter has to come out as a lesbian in less liberal environs.

Over There (only lasted one season)

Generation Kill (David Simon's fiction HBO mini-series based on nonfiction book)

The Wire vividly shows how the changes in FBI priorities are changing police work - thereby demonstrating why the 9/11 commission is right that they can't really fight both conventional crime and political terrorists. The opening episodes showed that the FBI can't fight two wars "since those towers fell" and the higher-ups "don't care about who is in handcuffs unless their name is Osama," and "too bad Americans don't have the heart to fight two wars," despite the cops vainly trying to argue that drug-dealers are urban terrorists, laying waste to whole neighborhoods. One wire tap in the 2004 season is obtained with alacrity with the little white lie that a kingpin's name is "Achmed."

In the "Subway Story" episode of the NYC-set sitcom Becker, written by Gary Dontzig and Steven Peterman (first broadcast on CBS 1/21/2004), cranky "Dr. John Becker" (played by Ted Danson) (from Steve Crook's synopsis on IMDb): "is trying to get home on the subway but a little old lady needs help in getting to her destination. 'John' stops to help her, but she needs to be helped again and again. And when he finally gets her to the station she's heading for, Chambers Street, why doesn't she want to go up to the street?" Toby O'Brien, of Inner Toob, who brought this episode to my attention, "saved the big emotional moment from it": "Naomi" (played by Frances Sternhagen) starts talking: He would have been 40 today. Dr.: Who? Who would have been 40? Naomi: My son.....It's funny. He got to work early that morning and called me, just to chat. About dinner, that weekend, a trip he was planning, the weather. It was such a beautiful September day. He said that he could see all of Manhattan from his office. He loved that view...Then he had to go to a meeting; didn't even say goodbye. Just said that he'd call me later. I did the dishes, I made coffee... and then I - just happened to turn on the TV. Ever since, I thought of all the things I would have said if I had known I would never talk to him again. Dr.: I'm so sorry. Naomi: I've been telling myself to come down here ever since, since it happened. Now, I finally made it, and I can't go up there. I'm afraid to look and see all that emptiness.

In Rescue Me (complete series available on DVD) Peter Tolan and Denis Leary can be more FX Channel-scabrous about firemen. The opening episode "Guts" featured a hunk only quasi tongue-in-cheek protesting about his current sex life: Hey, it's getting slow out there pal! All that pussy I was getting after 9/11. Now nothing. People forget. In Episode #2, "Gay", the central fireman's wife explains why she's proceeding with divorce and a move to California with another man: I need to get away from this. This. Every other house on the block has a dead hero dad. Every other kid in school has lost a father or an uncle. And you know what's worse than all the guys that died that day? The rest of you left behind. Walking around like everything's fine when you're dead inside. The retort of her husband "Tommy" (who converses regularly with the ghost of his cousin): Okay, you know what? I can't fix what happened to me, okay? I can't go talk to somebody, some shrink or something or go to some spa and sweat it out. You knew when you married me, my job was. . . She interrupts: Jesus Christ, Tommy, I'm sick of it. I want my kids to grow up normal.

"Revenge" by Michael Caleo demonstrated the series' mordant humor in dealing with 9/11: "Lt. Kenneth 'Lou' Shea" (played by John Scurti) has been dealing with his post-9/11 agony by secretly writing wrenching poetry; discovered doing so by his shocked and dismayed wife, he is pressed by a shrink to attend his post-traumatic stress syndrome therapy group. Reluctantly, he reads his dramatic poem "When Hell Came" that reveals his suicidal thoughts. Responding to the group member's tears he asks: You were there? In one of the towers? No, they each respond, one was on the Upper East Side buying a bagel, another in Jersey- I saw the smoke. Another in Paris. France? --Yes, that Paris.-- What do you got to be stressed about? I wish I was going to Paris. Get a load of this guy! So no one was actually there? Is that what I'm hearing? Did any one lose a family member? A close friend? Well, let me ask you this then. Was anybody here directly affected by the events of that day? One tearfully responds: I have a neighbor who has a cousin who has a friend who lost someone. The lieutenant explodes: I can't believe this. The surprised shrink asks: What's wrong? -- Everything is wrong. You're all a bunch of goddamn pussies. No. No. No. They come in here crying and pretending that your lives were affected because of this, right? OK, but there are people out there whose lives are never gonna be the same. Fathers and mothers, and kids everywhere who waited and prayed on that day for someone to just come home from work. To just walk through the goddamn door once more. Not to mention us poor bastards who had to march into that nightmare and if we were lucky to come out again, shells of what we used to be. That's it. I'm done. Thanks. This was a very cathartic experience. Thanks to you I won't be writing any shitty poetry again. Bunch of friggin' cry babies!

The show has even dared to take on The Widows - in "Inches", written by Stephen Belber and directed by John Fortenberry, the widows of 9/11 firefighters are shown provocatively dressed, seductive and horny, requiring chaperoning by brethren who won't break The Rule of sleeping with their buddies' ex's; a more recent widow eulogizes her husband that he was really married to his crew anyway.

In "Immortal", writers Tolan and Leary hit divisive post-9/11 issues that few have discussed, let alone comically: "Tommy" is racing to work late after a fight with his ex-wife and claims his mother's dying when pulled over by a cop who yells: The honeymoon's over. Tell all your friends -- all that hero-worshipping you got after 9/11 ain't gettin' paid any due from us any more. We lost guys downtown too, but nobody ever talks about us. 343 firemen. There was almost a hundred cops. ("Tommy" responds: That's true. Nobody's forgettin' about the cops.) Guess what - you so as much look at a cop the wrong way and you're payin' the price. All right, asshole? The house's chief lets a female firefighter know she's not welcome: After 9/11. There was a paralegal chick I worked with years ago. She never passed the physical. She took it three times, a special physical. Now they grandfathered her in because she sued the City for sexual harassment.[sic - he means discrimination] She was talkin' to The Post and she said that when she read the list of the 343 heroes that gave their life that day she was disgusted. Disgusted. Because none of the names on that list was female. Believe that shit? (Female firefighter responds: I actually heard that.) She didn't think about the parents who lost their child, the children who lost their fathers, the women who lost their husbands. All she was concerned about was herself and the girls.

In "Leaving", Tolan and Leary take on the out-of-towners who come to salute the dead firefighters. A cousin of one of the crew brings his fellow firefighters from Fitchburg to build a memorial. They never get down to Ground Zero as they spend their whole time drinking in a neighborhood bar. When they finally do build a shrine in the firehouse, it's labeled "For our brothers who perished on 9/11" and its eternal flame sets off a fire.

The moving season one finale, "Sanctuary" by Tolan and Leary, opens with "Tommy" baiting a cop merely with his presence as prep for the inter-departmental hockey game:
This is a cop bar.

Not in this precinct. You know, you guys can't just wander in wherever you want. You guys are heroes for like ten minutes, but that bullshit is over now.


After a good day on the job, the firefighters leave their own bar and gaze at the NYC skyline:Wow.
It's a nice view, huh.
It'll never be the same for me.
Yeah, me neither.
Even when they put up whatever it is they're putting up.
It's like they're trying to erase what happened, y'know.
It's insulting.
Remember they had those spotlights right after 9/11? I couldn't take that. I like it like this. Just the way those scumbags left it. No spotlights, no new buildings. Just empty.
Yeah, that's the thing about the spotlight, y'know. You walk out into it and at first everybody thinks they see a good-lookin' All American hero. You stay out there long enough, you start to notice certain things. Maybe your nose is a little crooked, maybe your teeth are too. Ya got a little scar on your upper lip. Your hair's not right. One eye's bigger than the other. They think they're looking at some kind of goddamned monster, like they're looking at King Kong. And they start throwin' shit at you.
I'll tell you one thing. That morning, they threw a couple of jets into a couple of buildings, and they threw at us the biggest job in the history of our profession. We gave up 343 of our guys and saved at least 10,000
And look at us now. Still waitin' for a goddamn raise. Tell you what guys. We were on our own that morning and we're on our own today.


This camaraderie is destroyed as they fight over "Tommy's" relationship with one of The Widows-- his cousin's. "Tommy" connects 9/11 with his relationships, ruefully noting that he didn't have sex for three months with his ex when he told her he was appalled that she complained about his cousin's parents' attitudes towards her on the morning of the funeral of their eldest son. The lieutenant, who is also secretly sleeping with one of The Widows, rhapsodizes:
What I think? Goddamn. After 9/11, after our four guys and the other 52 guys I knew, 52. 52 guys I came out of the Academy with, spent two or ten years with, best man at their marriages and godfather to their kids with. With. With With. What do I think? Everybody should do whatever the hell they want and they should do a goddamn lot of it, right now, because tomorrow, my friend, there ain't no guarantee. Birth, school, work, death. It goes that quick.


By the Season 2 opener in June 2005, "Voicemail" by Leary and Tolan, "Tommy" seems to be the only one bothered by the souvenir vendors hawking tshotshkes around Ground Zero. [Foreshadowing of the controversy over the gift shop at the 9/11 Memorial Museum.] He's particularly annoyed by the "Twin Towers cookies" of firemen, as there's no equivalent 9/11 cookies of cops, and in an alcohol-fueled rage knocks over the tables and pees on the merchandise, then for the last time gets bailed out by his cop brother. In the next "Harmony" episode, also by Leary and Tolan, when "Tommy" protests a traffic ticket, saying Look I've been on the job 20 years. I lost like 60 guys on 9/11. . . the Jewish cop ties together the external and internal: 9/11 was four years ago, champ, deal with it. You had your day. They wrote books about you guys. They put you on a pedestal and what happened? Turns out you ain't just heroes. Turns out some of yous do blow and have gang bangs. Turns out some of yous are just broken down drunks on the verge of a complete total mental collapse. Americans don't like it when things get complicated, pal. In "Shame" by Evan Reilly, "Tommy" terminates his affair with his cousin's widow, who threatens to expose their relationship to his house but gets only an apathetic response: It's like 9/11. Everyone's moved on.

In the second to last episode of the second season, "Bitch" by John Scurti, "Tommy" is asked by the same cousin's wife to talk her teen age son "Connor" out of also wanting to be a firefighter, but is haunted by his cousin's ghost during the heart-to-heart, who he tends to hallucinate when he's in drug or alcohol withdrawal:
"Connor": I'm thinkin' about it. Maybe a way to, y'know, connect with my dad. . .like my dad's dead, died on the job, then my uncle, my dad's best friend, the guy who showed me how to carry his helmet the proper way when I marched behind his casket [then some of "Tommy"s misdeeds]. You listen, I loved my dad. What you do, it has an honor to it. Like no matter how screwed up your life might be. When you come home at night, part of you, you're satisfied, right? Like you know at some point during the day, even for a few hours, you did the right thing. Right? [Tommy concurs] That's what my dad used to say any way. Not in so many words. [The ghost chokes up: "That's my son."]
"Tommy": Yeah, well, that was before 9/11. We get paid shit. We'll always get paid shit cause the politicians got us by the balls because we never go out on strike. [Cousin's ghost: "Jesus Christ, Tommy, come on."] Yeah, this country respected us after 9/11, they put the spotlight on us, y'know, but now because this country has ADD we're back to being glorified garbage men with booze and drug problems, but garbage men nonetheless. . . Y'know what I should do, I should take you down to the burn unit, to show you what we're always thisclose from so you can see the shit. . .[he graphically catalogs the horrors of fire victims until the Ghost yells at him and he yells back, to "Connor"s confusion].
That's one side of the coin. On the other side, there's no other job on the goddamn planet I'd rather do than this one. Because every day, you do feel like you've made a difference. Like you gave something back, y'know. I cam down here, truthfully, to talk you out of it, but I can't do it. This fire thing is in our blood. It's in our family's bones, y'know. My dad was a firefighter. His dad was a firefighter.
Got something for you. That's your dad's badge. Had it with me every day since he died. Even when I'm at work I keep it in my bunker gear. They gave it to me to keep for you in case. When a guy dies in the line of duty they retire his badge number and the only person who can take it after that is his son, if and when he decides to come on.
"Connor":You like it, right, the job?
"Tommy": I love it.
"Connor":Even with all the dead babies and all that other stuff?
"Tommy": Yeah.
"Connor":Can I keep this?
"Tommy": Yeah, that's why I brought it. If you really make the move, I think you're gonna enjoy being a firefighter. There's nothing like it. [And the ghost gives "Tommy" a big hug.] When it turns out "Tommy"s own young son overheard this conversation, his wife wonders why he suddenly is so serious about being a firefighter - Where are the kids coming up with this stuff?, "Tommy" shrugs, Y'know what, it must be those stupid Third Watch reruns.


In "Retards" by Evan Reilly, the series reflected on the fifth anniversary. "Tommy" is in a bar, breaking his sobriety by cashing in on his FDNY cred, even as he demands 8 fingers of your best Irish whiskey. He details his scars and how he got them, and the lives he tried but couldn't save in Harlem and the Bronx, before revealing the survivor's guilt that has been a recurring theme this season, set off by having seen a memorial plaque in another fire house earlier that day. I know 60 guys died on 9/11. And you know the funny part is, I bet you all the people in the bar, you could name five finalists on American Idol before they could name one, one, name of the 343 from the FDNY who gave their lives on 9/11. Huh? Anybody got a name? One name? Anybody got a name? Of a dead fireman, huh? Yeah, nobody, I didn't think so. The bartender pours him another glass. His sponsor/cousin/ex-priest tries later to get him to deal with it: This isn't going away, shithead.


In the series' fifth season, beginning with "Frank" by Leary and Tolan, first aired April 2009, a sexy French journalist is preparing a 10th anniversary follow-up and interviews each fireman for their mordant memories, that are both funny and poignant about how shaken up and haunted they still are, even as they've had to move on (to be transcribed). She continues to dredge up memories and reactions in "Wine", also by Leary and Tolan, as "Mike" the rookie who signed up as a fireman because of 9/11 clashes with "Franco" who now subscribes to conspiracy theories as to who was to blame (which reflects actor Daniel Sujata's personal views, as expressed in his narration of Loose Change 9/11: An American Coup). Memories of 9/11 are still aggravating "Tommy"s alcoholism this season as he continues his affair with his ghostly cousin's widow and mentors his nephew as a probationary fireman. (more to be transcribed) (updated 5/19/2014)



In The New York Times interview Denis Leary on the Return of Rescue Me, with Jeremy Egner, posted 6/29/2010, he explained the sixth and final season in terms of 9/11: "The final episodes will lead up to the anniversary. During the last three episodes the characters are going to these meetings to plan the parades and memorial services. . .It was interesting because we were doing it a year in advance and we have a lot of firefighters on the set, so we got to watch their response. There's a thing in the final scene, where down on the waterfront there's a new boat called the 343, which was just commissioned. The name on the hull of the boat is done in steel from the World Trade Center. It's a $27 million boat and the only reason they have them is because they realized on 9/11 that they need that service from the water, right down by where the buildings went down. Watching the boat, which the department was kind enough to give us that day, roll in was pretty emotional for a lot of the real firefighters. So for better or worse I think we did the right thing. . . The show has been the story of the male ego, the heroic male ego. The idea of dealing with life and death every day, and that struggle to fit into real life when you work a job that has no real connection to real life, except in the sense that you may die five minutes from now. Or you may save a life. This event was so catastrophic for these guys. It's still below the surface but they can't think about it every day because they have to jump on a rig and go back to work and jump into the building. But it's like Vietnam or World War II for them — it's something that will never go away. . .It's survivor's guilt in its truest form."



In the season opener, "The Legacy" by Leary and Peter Tolan and directed by Tolan, "Tommy" is having survivor's guilt nightmares after being shot by his uncle angry that his drunk driving killed his wife. Images of the World Trade Center are surrounded in smoke, then lines of body bags emerge and open. The dead rise in bloodied FDNY uniforms, who then get intertwined with all the other victims he couldn't save over his career. Back at the firehouse, "Chief Nelson" is griping about the Mayor: This is what we're reduced to? This is what we gained from 9/11 – a pay scale that barely keeps a married probie with two children above the poverty level and they want to close more firehouses. Biggest rescue effort in the history of the service and 10 years later we're getting it right up the ass. . . In my heaven, these houses from 9/11 get the best seats in the house.
"Breakout" dealt more with the illnesses of 9/11 first responders (while debates about government funding for their treatment were in the news), as exemplified by their former colleague "Pat Mahoney" (played by Will Chase in a three-episode arc), who they visit in the hospital. Bald and cancer-ridden, "Mahoney" vents: This sucks. I'm going to die in this room and no one gives a shit. No plaques, no parades, no scholarships in my name. So what did I do it for? What'd I put my ass on the line after the fact? His colleague, ironically the crew-mate who is not the brightest bulb in the box, uneasily answers: It's what we do. It's what we've always done. It's our job. "Mahoney" turns out to be too ill to leave for an escapade with the guys.
"Blackout", by Tolan and Leary, dealt with "Tommy"s continuing survivor's guilt. The ghost of his cousin "Jimmy Keefe" (James McCaffrey) who died at WTC returns as a hallucination to haunt and taunt him as he's stumbling drunk in a bar: This is your choice?. . .God decided you get a chance. It wasn't your time. And this is what you do with it? It's pathetic! If it had been me walking out of those towers alive, you can bet you wouldn't find my drunken, pathetic Irish ass in some back room. I'd be singing and dancing in the street. But to you, this is piss, nothing but piss. "Tommy" yells back: You're dead! You're not even here! The cousin rejoins: That may be, but I'm a goddamn hero! "Tommy" beats him up, kicking him savagely.
Many episodes of the 2011 season made reference to 9/11 and the tenth anniversary. (Commentary coming.) (updated 8/11/2011)


Law and Orders and Rod Lurie's Line of Fire (as well as in the theater Neil LaBute's The Mercy Seat and Francine Volpe's Late Fragment) keep showing smarmy people who have used the WTC tragedy to cover-up nefarious activities. David Kelley's The Practice did an episode in 2004 on how the police are using their new powers to violate people's rights. Years later, in the 19th season opener of Law and Order, first broadcast 11/5/2008, "Rumble" by Richard Sweren and Christopher Ambrose, intriguingly combined feelings from That Day with the aftermath of the legal morass of the Patriot Act. A group of firefighters, many related to victims or were inspired to join up due to 9/11, get into a revenge fist fight with the friends of a construction worker who had accidentally killed a brother in a fight. The D.A. not only uses the Patriot Act to declare them terrorists, but drags a witness onto the stand to testify that she was working on Vesey Street on 9/11 and saw people jumping etc., and insists she compare her fear of the brawl to her feelings That Day. Objection!
In the survivor of the franchise, Law and Order: SVU, I didn't hear another reference until the Season 18 finale "Sanctuary", written by Rick Eid & Julie Martin (first broadcast 5/24/2017). A suspect ("Mitchell Jenkins" played by Tyler Elliot Burke) in the murder/rape/hate crime at a Muslim family restaurant finally explodes about his witness victim: Then tell that stupid Muslim bitch, with her little head scarf, to get on the stand and convince 12 red-blooded Americans she's telling the truth. . .I didn't do it. But to be honest, I wish I did. Because those terrorists deserve whatever they get. Just ask my cousin Susan. Her husband got blown away on 9/11. Three kids. These towelhead bastards wanna kill us all. Don't you get it?..See, that's the problem. People like you. Stupid, white liberals. Get me a lawyer, bitch. (updated 6/9/2017)


The Without A Trace first season finale at least captured the feelings of loss, including the closing before and after photographic view from Brooklyn. "Safe", on 10/6/2005, had an odd plot: a teen, who had witnessed the attacks downtown, is increasingly agitated about feeling safe, compounded by his former best friend siding with his new school's bullies to gang up on him. So he consequently stages a hoax abduction bomb threat to prove the weakness of his school's security effort but turns it real, though it only accidentally misfires, when he attempts to be a suicide bomber - huh?
The premise of the 2004 series opener of CSI: NYC (on CBS) having the head investigator, played by Gary Sinise, mourning his wife killed at the WTC was cynically used as the series is not filmed in NYC -- so was he grieving in front of a matte of Ground Zero? (The 8th season opener "Indelible", written by co-star Carmine Giovinazzo and broadcast 9/23/2011, was a 10th anniversary tribute to DNA identification research, despite none yet available from the wife, and memories of that day for New Yorkers—again with a matte and Hollywood set background-- concluded with Sinise's fundraising appeal for a memorial in Brooklyn to first-responders.)
That trope was still being referenced in TV shows ten years afterwards. At least 2010's Rubicon (on AMC) had the dignity to be filmed in Lower Manhattan for its hero ("Will Travers" played by James Badge Dale) to be still mourning a wife and child killed when he came late to meet them at Windows on the World. In the L.A. filmed, New York-set Castle (on ABC), the two-part "Setup" and "Countdown" written by Andrew W. Marlowe, broadcast in February Sweeps Weeks, revealed that federal "Agent Mark Fallon" (played by Adrian Pasdar), is prepared to use extreme measures on terrorist suspects because his wife died in the towers. The series' regulars stop him and he apologizes: Listen, um... what I do is not who I am. It's just how I have to be. I hope you both understand that.