Maven's Nest

Reel Life: Flick Pix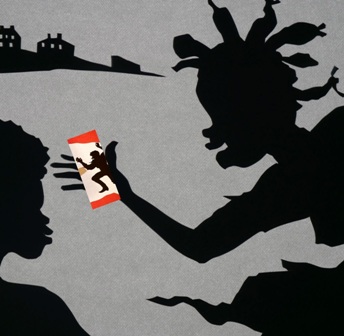 --Official NYFF poster designed by Kara Walker





Women-Directed Films at the 2021 New York Film Festival



By Nora Lee Mandel

How did women filmmakers fare at the 59th Annual New York Film Festival of Films at Lincoln Center (FLC) September 24 through October 10, 2021?

In the prestigious Main Slate: 10 feature films out of 32 (including 2 as co-director)
In Spotlight: 3 features out of 9 – plus 2 shorts in Amos Vogel retrospective
In Currents: 6 features out of 15 (1 film has 3 women directors and 1 as co-director), and 13 shorts out of 25
In Revivals: 7 out of 17


Despite the ongoing Covid-19 pandemic, the 2021 New York Film Festival opted for in-person screenings, following the safety protocols of all NYC theaters for proof of vaccination with required face coverings. Directors' in person Q & A's will be available on FLC's YouTube Channel.

As well as a few virtual and four outdoor events (primarily the revivals) at Lincoln Center's Damrosch Park, NYFF again expanded off-campus, partnering with four indoor theaters in Manhattan (in the East Village and Harlem), Brooklyn, and Westchester. With so many of the selections already picked up for commercial distribution, audiences also will be able to view many of the films at a later date. (I update distribution information as available.)

WOMEN DIRECTORS AT THE 2021 NEW YORK FILM FESTIVAL

Main Slate:

The Power of the Dog (Australia/New Zealand) – Director Jane Campion (with in person Q & A) – Centerpiece – adapted from Thomas Savage's 1967 novel - in select theaters November and on Netflix December 1, 2021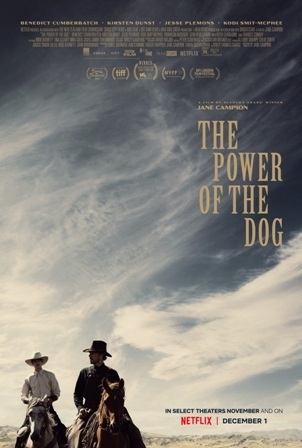 Campion in extended conversation with filmmaker Sofia Coppola on October 2 at FLC, and at the Paris Theater on October 3 for a screening of an archival print of The Piano (1993).

Bergman Island (France/Germany/Belgium/Sweden) – Director Mia Hansen-Løve with in-person Q & A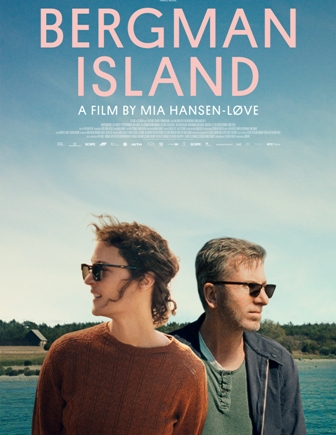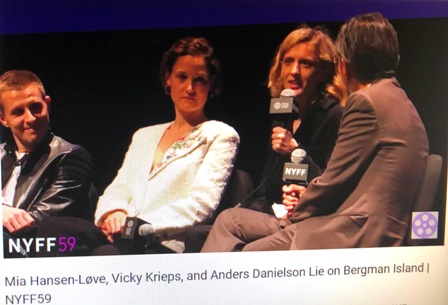 Courtesy of IFC Films release in theaters October 15 and on demand October 22, 2021

Hansen-Løve also in conversation on September 27 with director Joachim Trier (The Worst Person in the World)

Delicious irony that an isolated place in the middle of the Baltic Sea globally known as the brooding setting for the existential strife in the towering cinematic work of Ingmar Bergman is the locale for a 'Portrait of an Artist as a Young Woman'. Not only poking at the myth of the genius by following the obsessed film fans on the "Bergman Safari" tourist bus and hearing about his complicated personal life with nine children by six women, Fårö Island turns out to be a sunny forested idyll surrounded by blue skies and a rocky coast for rambles.

Hansen-Løve constructs a film-within-a-film as an emerging writer/director Chris (Vicky Krieps) struggles to find her own voice while in the shadow of her lauded partner Tony (Tim Roth), whose writings are sprinkled with violently misogynist drawings. (Her writing roost is a visual pun of tilting at windmills.) Chris narrates her story of film director Amy (the luminous Mia Wasikowska) who reconnects with her first love Joseph (Anders Danielsen Lie) at their friend's wedding. Though I was disappointed that Chris didn't really resolve the love-sick Amy with a satisfyingly feminist conclusion, at least there was a maternal hug as only seen in Bergman's mature, and atypical, Fanny and Alexander (1982).

Futura (Italy) Director Alice Rohrwacher (along with Pietro Marcello and Francesco Munzi)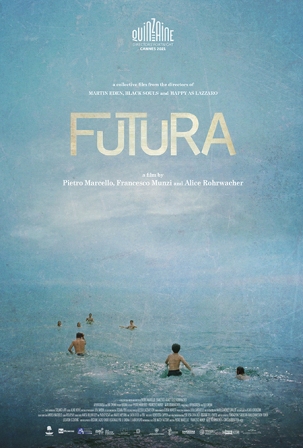 Grasshopper Film release January 28, 2022

Neptune Frost (USA/Rwanda) Co-Director Anisia Uzeyman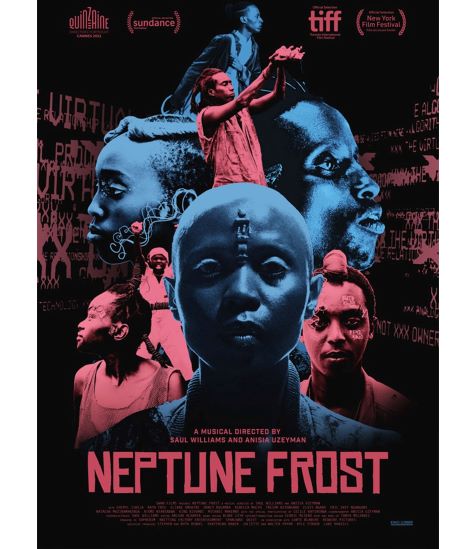 Kino Lorber theatrical release in NYC on June 3, 2022, in Los Angeles on June 10, then national rollout, in partnership with Dedza Films

Passing (USA) Director Rebecca Hall (with in person Q & A) - based on Nella Larsen's 1929 novella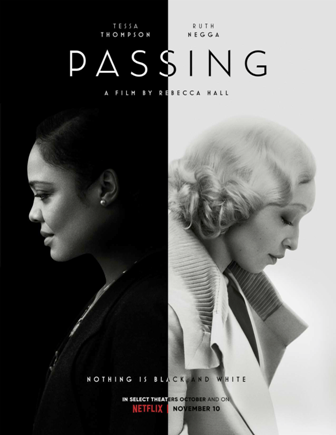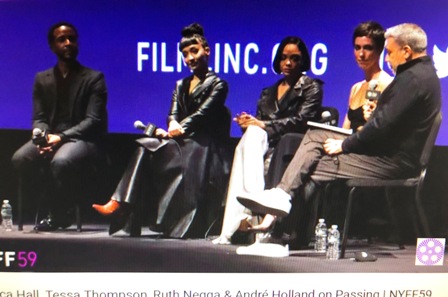 Netflix release on November 10, 2021
Tessa Thompson as "Irene Westover Redfield" and Ruth Negga as "Clare Kendry Bellew"
The last time the titular racial subject was so prominently treated in film may be Elia Kazan's Pinky (1949), with White actress Jeanne Crain as a woman so nicknamed by her grandmother, played by Ethel Waters. Hall's choice of black-and-white accentuates the period in Harlem, and that the actresses are like the original author, a brief shining star of the Harlem Renaissance.
Wanting an answer to her long-time feeling that her maternal family roots were related to "passing", Hall participated in Finding Your Roots, with Prof. Henry Louis Gates (S8 Ep 1, "Hidden in the Genes"). She learned her enslaved great-grandfather's impressive true history, and her grandfather's various "passing" personas.

Petite Maman (France) Director Céline Sciamma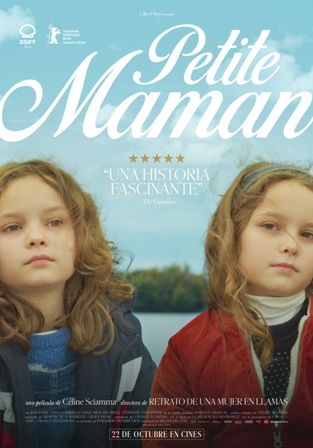 Neon release expected in 2022

Prayers for the Stolen (Noche de Fuego) (Mexico/Germany/Brazil/Qatar) Director Tatiana Huezo (with in person Q & A) - based on Jennifer Clement's 2014 novel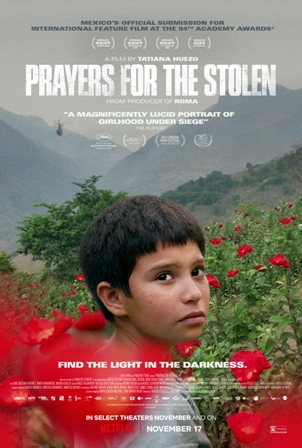 Netflix release on November 17, 2021

The Souvenir Part II (UK) Director/writer Joanna Hogg –(Her 2019 The Souvenir also in the Spotlight section, also via A24)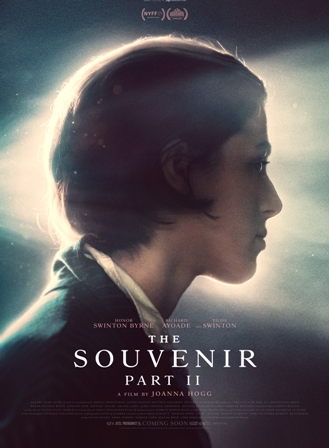 A24 release October 29

Titane (France) Director Julia Ducournau –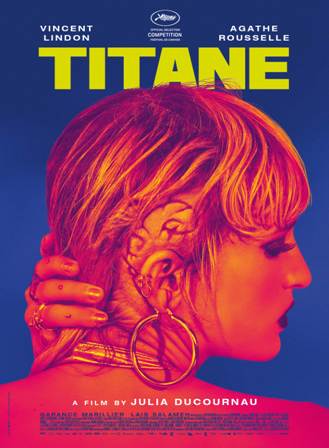 Neon release in theaters October 1, 2021

Unclenching the Fists (Russia) Director Kira Kovalenko – MUBI release

Spotlight:

Jane by/par Charlotte (France) – Director Charlotte Gainsbourg, documentary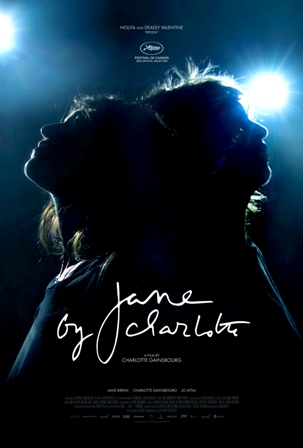 Previous knowledge of the French and English-speaking women's work and lives are needed as the audience intrudes on an intimate mother/daughter/granddaughter conversation between Jane Birkin and the nervous director/photographer, in a journey through their past and present, from Paris, to New York, to the seashore, especially covering siblings, husbands, and aging.

Utopia release - Opens March 18, 2022 at the Quad Cinema in New York, March 25, 2022 at the Landmark Westwood in Los Angeles, expands to additional cities in April, then will be available on Digital May 6th for Mother's Day weekend.

The Lost Daughter (USA/Greece) Director Maggie Gyllenhaal (with in person Q & A) - based on Elena Ferrante's 2006 novel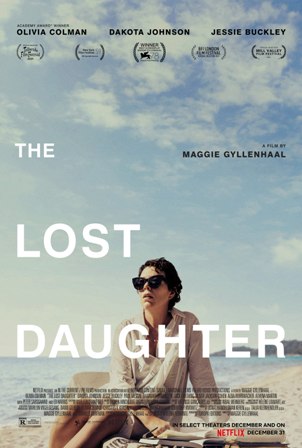 Netflix release December 31, 2021

Amos Vogel Centenary Restrospective:

In "Program 3 - Czech New Wave, 1965": Pearls of the Deep (Perličky na dně) (based on Bohumil Hrabal short story) Section Director Věra Chytilová

In "Program 6 – Personal Cinema, 1968": The Spirit of the Navajo - Directors Maxine Tsosie and Mary Jane Tsosie (USA), short from Museum of Modern Art collection

Currents:
Features

The Tsugua Diaries (Diários de Otsoga) (Portugal) – Opening Night - Co-Director Maureen Fazendeiro (through O Som e a Fúria/ Match Factory)

All About My Sisters (Jia ting lu xiang) (USA) Director Wang Qiong with in-person Q & A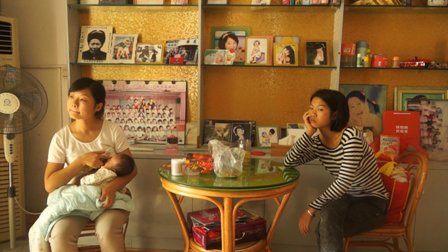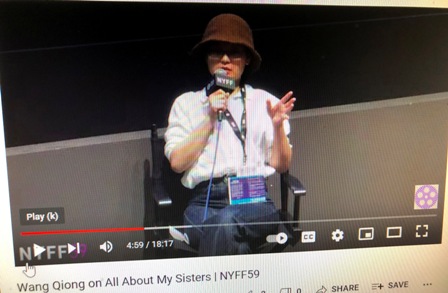 Courtesy of The dGenerate Collection at Icarus Films release October 15, 2021 in New York City, followed by cities nationwide.

This searingly intimate portrait of the director's extended family, from farm to town, is a devastating look at how China's decades-long "One Child Policy" has led to three-generations of Post Traumatic Stress. Like an even more personalized follow-up, for the international audience, to Nanfu Wang's One Child Nation (2019), the Communist Party's economic imperative to quickly modernize intersected with traditional Chinese culture to create a chilling genocide against females – the infamous "missing women" compared to expected births. (The lack of women in the Party's leadership mocks the widely ignored signs in clinics against gender selection.)

But demographic statistics are nothing compared to the confessions of multiple and hidden pregnancies, forced very late abortions, and abandoned infants in the relentless quest for the one male. (The resulting privileges of "Little Emperor Syndrome" are also baldly seen as they too now insist on a male child, stressing-out the director's older sister Li). Even an uncle who was a party official charged with the most extreme measures at the height of enforcement in the 1990's is still haunted by leaving a son and a daughter in the woods to die – but still accepts what he had to do as "only following orders". He sounded like a Nazi Party member who willingly submitted his own children for euthanasia – with the only disability these had was being born female or younger than a sibling.

The people of that generation the director interviews shrug at the memories they've tried to repress – ditches full of newborn girls, babies left under hospital beds and by the roadside. Yet the director's family has lived through another twist on this national tragedy that others share as well – an abandoned younger sister, Jin, survived, due to the intervention of a grandmother, and was taken in by a relative. (Jin reports that many of her classmates were "adopted".) The mix of "uncle and aunt" and "your mom and dad" echoes with guilt and recriminations that play out in how parents and the next generation continue to lash out with emotional cruelty that the director tries to mediate.

Ironically surrounded by happy family photographs, the 175-minute epic (albeit sometimes confusing) family soap opera plays out over several years - be prepared for empathetic tears and heartache. While the director admitted in the Q & A that she hasn't let her family members watch what each said about the others, multiply her insights about their anguish by one billion people and imagine how a tormented national psyche may impact government actions.


I Want to Talk About Duras (Vous ne désirez que moi) (France) Director Claire Simon (based on Michèle Manceaux's posthumously published 2016 book. not yet available in English Je Voudrais Te Parler de Duras) (through Lux Box Films)

A Night of Knowing Nothing (France, India) Director Payal Kapadia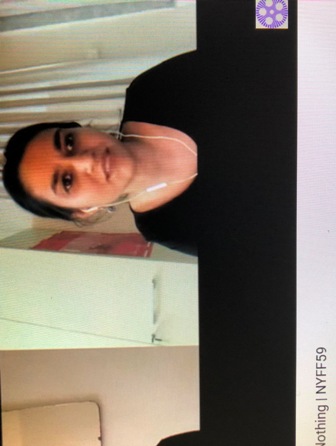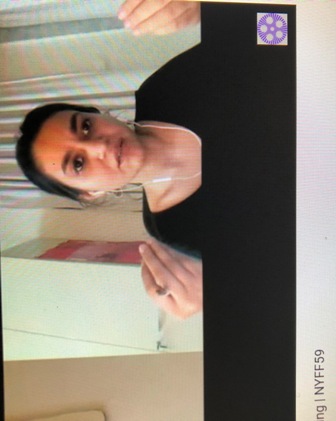 (U.S. premiere streamed through 2021 Camden International Film Festival)

As a graduate of the government's Film and Television Institute of India in New Delhi, Kapadia supervised and gathered several years of multi-sourced footage and insights into how the freedom, romance, and idealism of student life intersected with years of political turmoil since 2014. Luminously capturing their Godard-ian revolutionary spirit, the fiction/non-fiction hybrid uses three striking planes:
--black-and-white imagery (inspired, she said in the Q & A above, by period U.S.S.R. films that were curriculum foundations) of demonstrations against the right-wing Hindu nationalism of the ruling Bharatiya Janata Party contrasting with dance parties;
--fictional epistolary narration by an anonymous female student to her paramour reflecting on their inter-caste relationship; and,
--sound design of silences and muted ambient audio that ties them together in a timeless quality.

Eschewing chronology and convention, Kapadia heralds a new non-Western generation's refreshing look at their own history.


Prism (Belgium) Directors Eléonore Yameogo, An van. Dienderen, and Rosine Mbakam. Icarus Films release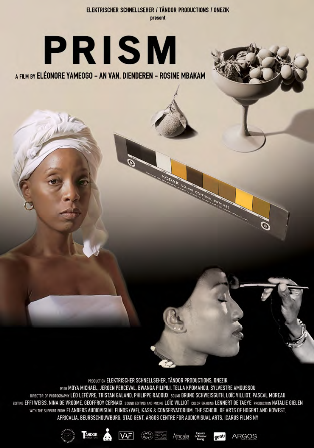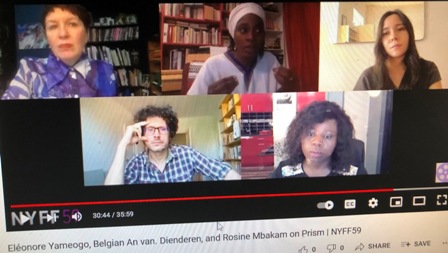 The theatrical premiere is at Brooklyn Academy of Music October 8 – 14, 2021 in the series Prisms and Portraits: The Films of Rosine Mbakam. Also included will be the revealing Delphine's Prayers (Les Prières De Delphine), that I saw at MoMA's Documentary Fortnight earlier this year.

Can the camera invented by Whites to capture the images of Whites be objective about Blacks? Belgian filmmaker An van. Dienderen invites Brussels-based Rosine Mbakam (from Cameroon) and Paris-based Eléonore Yameogo (from Burkina Faso) to collaborate on exploring how the technology impacted the past and into the future. Even on Skype they have to deal with lighting issues to see other fully.

An van. Dienderen first follows up on the premise that the visual standard for calibrating skin color for photographic technology was a chart modeled by White women dubbed "China dolls".

Questioning whether the camera can be trusted, Rosine Mbakam stages a reenactment of Marie-Guillemine Benoist's "Portrait of Madeleine", adding the imagined thoughts and feelings of the Subject Formerly Known As The Negress. Two of her film school professors she claims to admire for including Black directors are interviewed; they come across as satirically stereotypical pompous French intellectuals pontificating the obvious. She compares and contrasts archival images of Africans made by her French husband's colonial grandfather, filmmaker Raymond Depardon, and photographer Jean-Dominique Burton, and hopes to apply what she learns to photographing her own mixed family.

Eléonore Yameogo takes the most practical approach. Actress Tella Kphomahou, frustrated that she can be cast as a "a luminous Black Woman" in a play, yet seems invisible in movies and TV, consults with cinematographer Diarra Sourank (who identifies as mixed-race) and a make-up artist on how they collaborate to capture the nuances of reflection-absorbing black skin. Admiring the pioneering work of African director Paulin Vieyra, Kphomahou and French-Senegalese director Sylvestre Amoussou stroll along the Seine and discuss how cameras can adapt.

Despite contant use of academic jargon such as "deconstruction" and "decolonization", the practical and the hopeful win out.

A River Runs, Turns, Erases, Replaces (USA) Director Shengze Zhu (through Burn The Film)


Shorts:
In "Program 1: Acts of Seeing": 38 (USA) Co-Director Micaela Durand; Elle (Germany) Director Luise Donschen

In "Program 2: Critical Mass": Do Not Circulate (Hong Kong) Director Tiffany Sia; In Flow Of Words (Netherlands) Director Eliane Esther Bots

In "Program 4: Still Life": The Capacity For Adequate Anger (Germany) Director Vika Kirchenbauer

In "Program 5: Pattern Language": Reach Capacity (USA) Director Ericka Beckman

In "Program 6: Camera Lucida": Here Is The Imagination Of The Black Radical (UK) Director Rhea Storr; Strange Object (UK) Director Miranda Pennell; To Pick A Flower (Philippines) Director Shireen Seno

In "Program 7: New Sensations": Grandma's Scissors (Taiwan/USA) Director Erica Sheu; Blind Body (Australia) Director Allison Chhorn; If I Could Name You Myself (I Would Hold You Forever) (UK) Director Hope Strickland

In "Program 8: Vibrant Matter": Fictions (Mexico/Germany) Director Manuela de Laborde

Revivals:

Adoption (Örökbefogadás) (Hungary) (1975) Director Márta Mészáros - New 4K digital restoration by The Hungarian National Film Fund, approved by the director
Janus Films release

The Bloody Child (USA) (1996) Director Nina Menkes - New restoration by The Academy of Motion Picture Arts and Sciences Film Archive and The Film Foundation
Arbelos Films release

Hester Street (USA) (1975) Director Joan Micklin Silver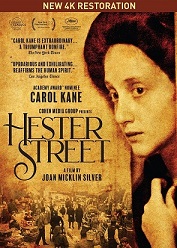 Cohen Film Collection theatrical release (new poster above) begins October 1 at the Quad in New York City and the Nuart in Los Angeles. DVD/Blu-Ray forthcoming.
My commentary on the 2020 Restoration


Mississippi Masala (UK/US) (1991) Director Mira Nair (with in person Q & A) - New 4K digital restoration by The Criterion Collection, supervised by the director and the cinematographer Ed Lachman.
Janus Films release
Writer Jhumpa Lahiri, whose novel The Namesake Nair adapted in 2006, will moderate "The Making of Mississippi Masala" with Nair, star Sarita Choudhury, and Lachman on September 25.

Ratcatcher (UK/France) (1999) Director Lynne Ramsay - New 4K digital restoration by The Criterion Collection, supervised by the director and cinematographer Alwin Küchler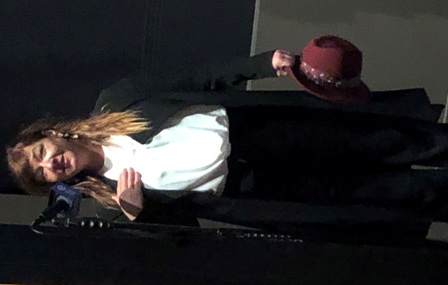 - Ramsey at 2019 NYFF


Janus Films release – Blu-Ray available on October 19

Sambizanga (Angola/France) (1972) Director Sarah Maldoror (based on novella, not in English, by Angolan writer José Luandino Vieira)
Restored by The Film Foundation's World Cinema Project and Cineteca di Bologna at L'Image Retrouvée in association with Éditions René Chateau and the family of Sarah Maldoror, part of the African Film Heritage Project, an initiative created by The Film Foundation's World Cinema Project, the Pan African Federation of Filmmakers and UNESCO—in collaboration with Cineteca di Bologna

Who Killed Vincent Chin? (USA) (1987) Director Christine Choy
Restored by The Academy of Motion Picture Arts and Sciences Film Archive and The Film Foundation
Janus Films release

WHOLE LOTTA MALE GAZE IN OTHER NYFF SELECTIONS

Bad Luck Banging or Loony Porn (Babardeala cu bucluc sau porno balamuc) (Romania/Luxembourg/Czech Republic/Croatia) Director Radu Jude (in "Main Slate"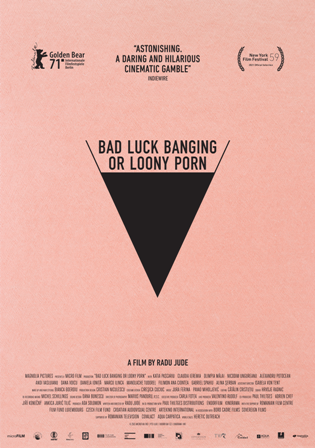 Magnolia Pictures release November 19, 2021

Benedetta (France/Netherlands) Director Paul Verhoeven (in "Main Slate")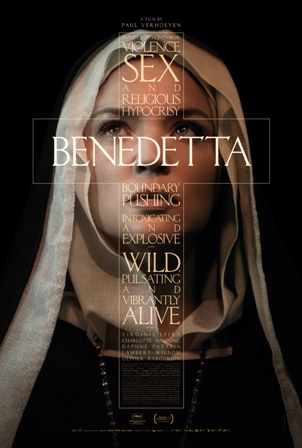 Based on historian Judith C. Brown's Immodest Acts: The Life of a Lesbian Nun in Renaissance Italy
IFC Films release in theaters December 3, on VOD December 21, 2021

A Chiara (Italy) Director Jonas Carpignano (in "Main Slate")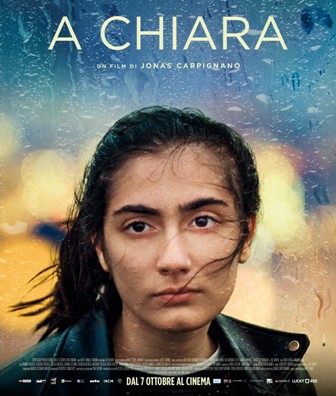 Neon release anticipated in 2022

Drive My Car (Doraibu mai kâ) and Wheel of Fortune and Fantasy (Gûzen to sôzô) (Japan) Director Ryûsuke Hamaguchi (in "Main Slate")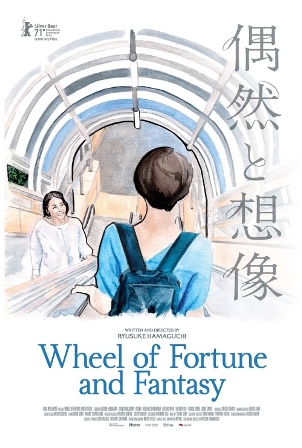 Drive My Car is inspired by several Haruki Murakami short stories; Janus release November 24 in NYC theaters and December 3, 2021 in Los Angeles theaters
Wheel of Fortune and Fantasy is based on three Hamaguchi short stories; Film Movement release October 15, 2021

France (France/Germany/Belgium/Italy) Director Bruno Dumont (in "Main Slate")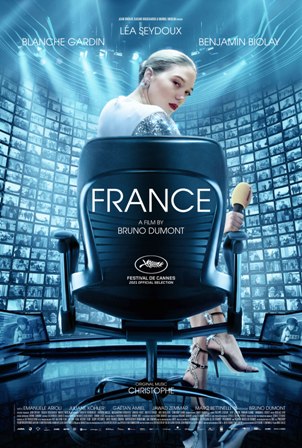 Léa Seydoux as "France de Meurs"
Kino Lorber Films release December 10, 2021 in theaters and virtual cinemas

Məmoria (Colombia/Thailand/UK/France/Germany/Mexico/Qatar) Director Apichatpong Weerasethakul (in "Main Slate")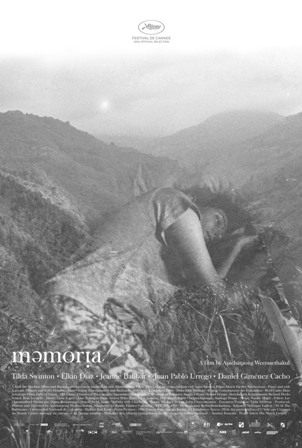 A film more to be heard than seen, as the main thrust is the intriguing sound design as Tilda Swinton portrays a visitor to Colombia audibly haunted by a mysterious noise that links her to the violent history emanating from the jungle.
Neon release December 26, 2021

Red Rocket (USA) Director Sean Baker (in "Spotlight")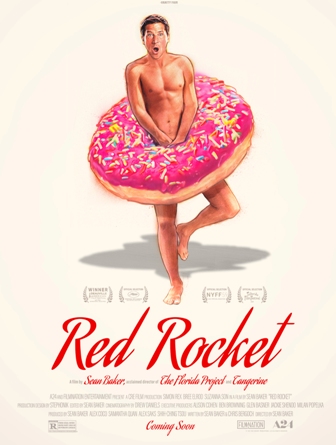 A24 release December 10, 2021

The Worst Person in the World (Verdens verste menneske) (Norway) Director Joachim Trier (in "Main Slate")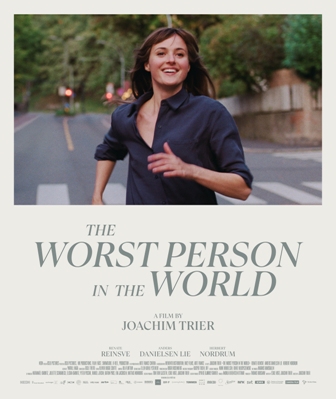 Neon release February 4, 2022

COMMENTARY ON OTHER NYFF SELECTIONS



Ahed's Knee (Ha'berech) (France/Israel/Germany) Director Nadav Lapid, written with Haim Lapid (in "Main Slate")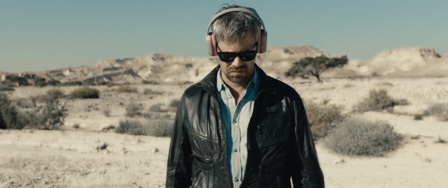 Streamed at 2021 Other Israel Film Festival

Theatrical release by Kino Lorber Films in early 2022

In Nadav Lapid's swirling fever dream, punctuated by music video-like scenes, still-rebellious 40-something film director "Y" (charismatic actor/dancer Avshalom Pollak) heaves a bitter screed at his native Israel for conscripts' macho militarism, exaggerated existential threats to its existence, and censorious right-wing government. "Born and bred in Tel Aviv", "Y" is invited to fly down for a screening in the iconic southern desert by the charming young Ministry of Culture bureaucrat Yahalom (Nur Fibak, in her debut). "Y" stops to affectionately record paeans to the landscape for his ill mother (quoting Lapid's late mother and editor: "At the end, geography wins."). But he fills the day narcissistically flirting, scheming, manipulating, castigating, and ranting – like many in the world would perceive as the arrogant sabra, with what Lapid calls Israel's "collective soul". Fasten your seat belt to get aboard.

C'mon, C'mon (USA) Director Mike Mills (in "Spotlight")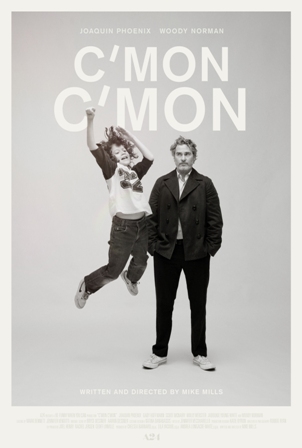 A24 release November 19

Dune (USA) Director Denis Villeneuve (in "Spotlight")




Warner Brothers theatrical release and HBO Max stream October 22

Timothée Chalamet, as the scion "Paul Atreides", broods attractively beneath well-tended tresses of hair, yet it is Rebecca Ferguson, playing his witchy mother "Lady Jessica Atreides", who gets the best action to break through the special effects as a person. In this latest adaptation of the Frank Herbert science fiction book that became a series of novels, the visual and sound design, including score by Hans Zimmer, are really cool. Very much a "Part 1" with a "to be continued" feel to the ending, Warner Media immediately greenlit "Part 2".

The First 54 Years: An Abbreviated Manual for Military Occupation (France/Finland/Israel/Germany) Director Avi Mograbi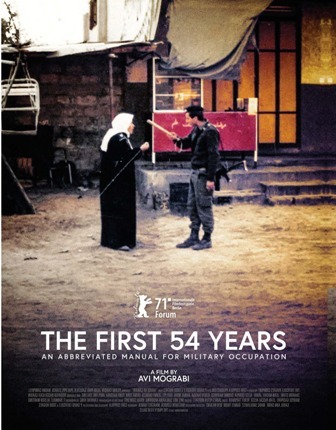 Streamed at 2021 Other Israel Film Festival
This documentary was a surprising NY Film Festival "Main Slate" selection because it is much more of political than any cinematic significance. Though it can be considered a follow-up to Avi Mograbi's previous NYFF participation Avenge But One of My Two Eyes (2005), this is a very plainly constructed film. His sardonic comments to the camera link a series of chronological testimonies produced for Breaking the Silence, an organization that collects videos by "veteran soldiers who have served in the Israeli military since the start of the Second Intifada [2000 on] and have taken it upon themselves to expose the Israeli public to the reality of everyday life in the Occupied Territories" of the West Bank and Gaza. A robotic female voice interjects historical context over a map of changes during the years.

This pointed film is very appropriate for the Other Israel Film Festival, amongst 14 other films, in the 15th annual presentation, November 4 – 11, both virtual and in person at the Carole Zabar Center for Film's Goldman-Sonnenfeldt auditorium at the Marlene Meyerson JCC, just a few blocks north of Lincoln Center. Other films showing that add details and expand on its themes include:

Ran Tal's interviews in What If? Ehud Barak on War and Peace are trapped in the same odd timeless myopic duopoly about Palestinians, let alone their leaders, from not speaking Arabic or being able to see them in terms of the wider movements in the Arab and Muslim Middle East – from the PLO originated as a secular revolutionary party vs. Fatah, as the Iran revolution shook up religious fervor and supported factions that claimed primarily Islamic identity, how do they fit within Islamists split along theocratic ideological lines driven by non-Palestinians (Shiite? Sunni? Salafi?), the potential of the brief "Arab Spring", or comparisons to the autocratic Islamic countries that the Trump administration peeled off from their support through the "Abraham Accords".


Yair Qedar's bio-documentary The Fourth Window (HaChalon HaReviee) spotlights in writer Amos Oz's political writings in newspapers, he began a prescient warning just weeks after the 1967 war "about the hazards and disease of military occupation, and what it does to the occupier," and continued his secular jeremiad on this theme.


Mission Hebron (short) Director Rona Segal straight-forwardly interviewed six very young Israeli men, several of whom are either immigrants or lived for considerable time in their lives in the U.S., to define their roles as soldiers in Hebron, on the West Bank. Somewhat nervous on camera, they describe their daily assignments vis a vis the Palestinian residents, the settlers, the police, and within the Israel Defense Forces (IDF) hierarchy. The matter-of-factness of the harassment, cruelty, and bias they were required, sometimes reluctantly, to undertake is searing. (So, nu: my commentary on the Jewish women) (New York Times Op Doc) (previewed at 2021 Other Israel Film Festival)


In Eran Paz's hour-long And I Was There, he collects similar, introspective testimonies among his own battalion mates as they look back on their intrusions into the homes of Palestinian families during "Operation Defensive Shield" in 2002, during the Second Intifada. But he goes further by re-tracing his steps, meeting with a family member, and trying to apologize.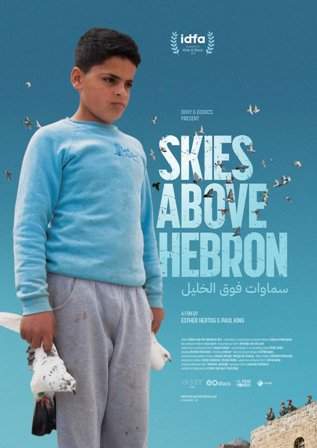 On camera in Skies Above Hebron, Paul King & Esther Hertog witness over five years, edited to less than an hour, how such soldiers treat several Palestinian boys and their families, in sharp contrast to adjacent Jewish settlers.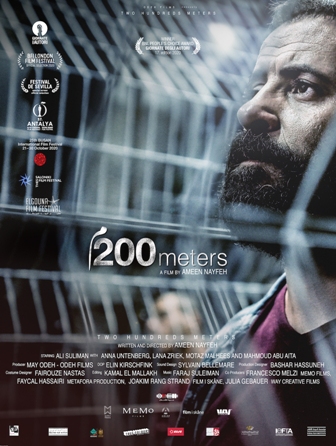 Ameen Nayfeh's powerful fictional feature debut 200 Meters is somewhat less critical about the behavior of patronizing young Israeli soldiers at checkpoints. Mustafa (played by the charismatic Ali Suliman, in a role developed with him), sees them as just stubbornly bureaucratic and unfeeling in a situation the director scorns as "absurd".

Flee (Denmark/France/Sweden/Norway) Director Jonas Poher Rasmussen (in "Main Slate")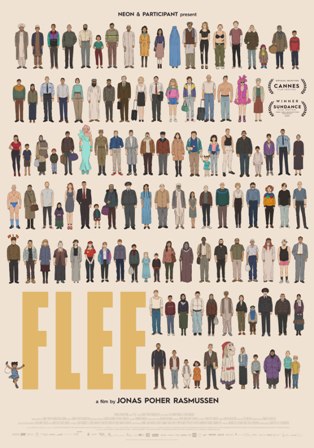 Streamed at 2021 Double Exposure Investigative Film Festival

Neon release December 3, 2021

The French Dispatch (USA) Director Wes Anderson (in "Spotlight")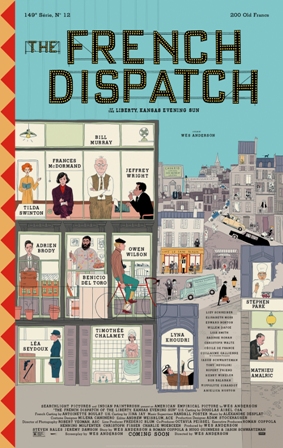 Searchlight Pictures release October 22

The Velvet Underground (USA) Director Todd Haynes (in "Main Slate")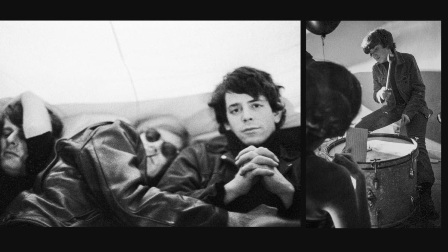 Release on Apple TV+ October 15


Flashbacks: My recent New York Film Festival coverage of films by women:

At 2020.

At 2019.

At 2018: Highlights and Complete Guide.

At 2017: fiction features, accessible documentaries and unusual documentaries.

At 2016: Complete Guides to Women-Directed Films at NYFF: the 11 Feature Films and the 18 Short Films.

updated 5/12/2022





Nora Lee Mandel is a member of New York Film Critics Online. My reviews are counted in the Rotten Tomatoes TomatoMeter:


Complete Index to Nora Lee Mandel's Movie Reviews